Privatization is the shifting of ownership, management or provision of assets and/or services from the public to the private sector. Privatization is first and foremost about guaranteeing profits for companies at the expense of Saskatchewan people.
Saskatchewan's largest union has launched a new documentary about the threats facing our public services from cuts and privatization. You can watch the full documentary, Meeting Human Needs – The fight for Saskatchewan's public services, here:
Since 2007, the Saskatchewan Party government has sold over $1.2 billion in public assets and eliminated at least 1,227 public sector jobs via privatization and contracting out. The film, which was produced by Campaign Gears and Left Field Digital, looks at the loss of STC, the challenges with the Sask Hospital P3 and the ongoing erosion on public health care.
Together, we can fight to protect Saskatchewan's public services.
---
QUICK RESOURCES:
---
We all pay more with privatization, and it takes many forms:
Selling-off a Crown Corporation or public asset;
Contracting out a service to a private firm or third party rather than keeping the service internal or in-house;
Outsourcing – another term for contracting out a service;
Public-Private Partnerships (P3s) – another term for private ownership or control of community infrastructure and services. With P3s, governments enter into costly contracts that are essentially rent-to-own schemes rather than building and maintaining community infrastructure directly.
Evidence shows that privatization increases costs, and leads to lower quality and a reduction in service levels. We also lose control and accountability with privatization – profit making becomes the sole priority rather than serving the needs of our communities.
Handing over control of services and infrastructure to corporations is a political goal of those that stand to profit from privatization and not a real solution to infrastructure and service needs. That's why we are often bombarded by a heavy duty sales pitch.
There is a better way. Saskatchewan people know they can count on public services to make life more affordable and deliver the services we need to improve our communities and our quality of life.
Did you know? A Canadian Centre for Policy Alternatives' 2010 study revealed that an individual Canadian consumes on average $16,952 in public services per year. It's a benefit that is often overlooked.
---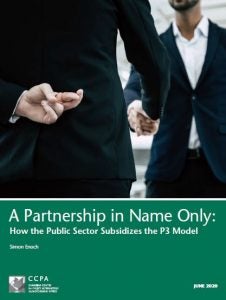 New report highlights the experience of CUPE members working in P3s
A new report from the Canadian Centre of Policy Alternatives (CCPA) looks at the long-term issues of public-private-partnership (P3s) infrastructure builds.
A new report A Partnership in Name Only: How the public sector subsidizes the P3 model, written by Simon Enoch, CCPA Saskatchewan Director, examines the multiple issues public sector workers face in Saskatchewan's P3 buildings.
The findings of the report, which was commissioned by CUPE Saskatchewan, is based on interviews with CUPE members working at P3s in municipalities, schools, and health care.
"We have seen many publications about the higher costs associated with the P3 model, but what is rarely discussed is the maintenance and operations component of the P3 model. This is curious because the maintenance of the building is the primary concern of the contract over the 30 plus years they are in place," said Enoch. "We wanted to see how the maintenance provisions of these contracts effect the workers who work in these buildings and the public that rely on them. Who is better to consult than the workers themselves?"
---
Selling Saskatchewan: A decade of privatization 2007-2017
Published by the: CCPA-SK
Despite persistent statements from the Saskatchewan government that it does not harbor a "privatization agenda," privatization has nevertheless accelerated dramatically under the Saskatchewan Party, particularly during its second and third terms in power.
Over the past decade, it is estimated that the Saskatchewan Party government has sold over $1.1 billion in public assets and eliminated at least 1,227 public sector jobs via privatization and outsourcing.
Selling Saskatchewan: A Decade of Privatization 2007 – 2017 identifies all the more significant statements and policy decisions involving privatization, public-private partnerships and outsourcing made in Saskatchewan since 2007.
---
Privatization in Saskatchewan since 2007
The following is a short summary of the privatization that has occurred since 2007 and is not an exhaustive list.
Crown Corporations
14 Crown Corporations entities sold-off;
4 Power Purchase Agreements signed with private companies – privatizing electricity generation;
24 areas of Crown Corporations were contracted-out; and
6 government policies were enacted restricting Crown Corporation growth.
Health Care
CT scans and surgical procedures contracted-out to a for-profit company;
Government-backed P3 project for long-term care in Saskatoon, known as Amicus, opened its doors;
Saskatoon Health Region's laundry outsourced to for-profit company in Alberta;
Outright privatization of health care laundry services in Saskatchewan (closure of public health care laundry facilities in Prince Albert, Weyburn, Yorkton and Moose Jaw announced – over 300 jobs will be lost).
P3 announced for new Saskatchewan Hospital in North Battleford.
Other P3s announced:
Civic Operations Centre in Saskatoon
Bypass road in Regina
Two new bridges in Saskatoon
Nine joint-use (public/separate) schools in Regina, Saskatoon, Warman and Martensville
Long term care facility in Swift Current
---
Privatized liquor could cost province millions: report
The Saskatchewan government maintains that their proposed privatization of the province's liquor retailing system will not result in diminished government revenues. However, a new joint study by Alberta's Parkland Institute and the Saskatchewan Office of the Canadian Centre for Policy Alternatives demonstrates that even with the existing mark-up and taxation regime in place, the government stands to lose millions in potential revenue under a privatized liquor system.
Take Action:
Related links:
---
P3s: Pay more, get less
Public Private Partnerships—or P3s— is the name given to a method of privatizing services and facilities. In a typical P3 deal, the government pays for-profit private corporations to finance, design, build and/or operate facilities.  The government typically commits to lease a P3 facility and use certain services for a period of 30 years or more.
P3s are first and foremost about corporations making profit at the expense of taxpayers, and governments are never wise to use them.
Related privatization articles:
Learn More: