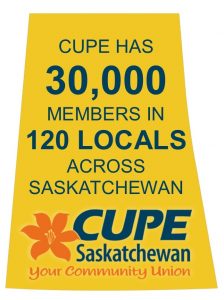 What is a CUPE Local Union?
As a member of CUPE, you are a member of a CUPE local union.  A CUPE local union is made up of you and your co-workers and is generally comprised of the employees from a specific employer or workplace. A Local Union is the basic unit of a trade union organization. Local Unions elect officers, have their own bylaws and are usually responsible for the day-to-day administration of the collective agreements covering their members.
There are over 120 CUPE local unions of various sizes across Saskatchewan. The smallest local has half a dozen members while the largest has 13,600 members. Across Canada, there are more than 2,382 CUPE locals.  Nearly every community in the country has one or more CUPE locals.
Leadership through membership
Fellow CUPE members are elected to leadership positions within their local union.  Locals set their own bargaining demands, work with the national representative to negotiate their collective agreement, handle grievances with employers and decide what issues the members want to support.
Does your Local Union have a website link not listed below? Contact Nathan at 306-757-1009.
CUPE LOCALS ACROSS SASKATCHEWAN

| CUPE Local | Description |
| --- | --- |
| Local 7 | City of Regina (Inside city workers) |
| Local 9 | City of Moose Jaw |
| Local 9-01 | Palliser Regional Library (Moose Jaw) |
| Local 9-02 | City of Moose Jaw Board of Police |
| Local 9-03 | Moose Jaw Art Museum |
| Local 21 | City of Regina (Outside city workers) |
| Local 47 | City of Saskatoon |
| Local 59 | City of Saskatoon |
| Local 90 | City of Weyburn |
| Local 160 | City of Prince Albert |
| Local 183 | City of Swift Current |
| Local 228 | Town of Creighton & Village of Denare Beach |
| Local 287 | City of North Battleford |
| Local 342 | City of Yorkton |
| Local 456 | City of Melville |
| Local 600-3 | Valley View Centre |
| Local 600-5 | SPMC at SK North Battleford Hospital |
| Local 650 | Regina Public Schools |
| Local 650-1 | Regina Labour Building Assoc. |
| Local 726 | City of Estevan |
| Local 777 | City of Melfort |
| Local 777-1 | Town of Nipawin |
| Local 777-2 | Town of Tisdale |
| Local 859 | City of Saskatoon |
| Local 882 | City of Prince Albert |
| Local 885 | Rilling Bus Drivers & Town of Wakaw |
| Local 974 | Saskatoon Community Clinic |
| Local 1125 | Regina Catholic Schools |
| Local 1151 | Town of Biggar |
| Local 1161 | Eaglestone Lodge Personal Care Home (Kamsac) |
| Local 1486 | Students Union of the U of R (URSU) |
| Local 1594 | Regina Public Library |
| Local 1718 | Stapleford Medical Management Inc. (Regina) |
| Local 1788 | Wapiti Regional Library – John M. Cuelenaere Library (Prince Albert) |
| Local 1831 | Regina Community Health Service Assoc. |
| Local 1871 | Saskatchewan Human Rights Commission |
| Local 1881 | Town of Kamsack |
| Local 1902 | Wascana Day Care Cooperative (Regina) |
| Local 1902-1 | Saskatoon Campus Day Care |
| Local 1902-4 | Awasis Child Care Cooperative (Regina) |
| Local 1902-6 | Rink Ave Day Care (Regina) |
| Local 1902-9 | U of S Students Union Child Care Inc. |
| Local 1904 | Parkland Regional Library Board (Yorkton) |
| Local 1949 | Saskatchewan Legal Aid Commission |
| Local 1975 | University of Saskatchewan |
| Local 2174 | Southeast Regional Library |
| Local 2182 | Prince Albert & District Community Services Centre |
| Local 2235 | City of Meadow Lake |
| Local 2268 | Greater Saskatoon Catholic Schools |
| Local 2359 | City of Humboldt |
| Local 2419 | University of Regina Academic Assistants |
| Local 2582 | Town of Martensville |
| Local 2669 | Saskatoon Public Library |
| Local 2714 | Town of Maple Creek |
| Local 2740 | Town of Kindersley |
| Local 2752 | Town of Unity |
| Local 2913 | Prince Albert Catholic Schools |
| Local 3003 | Town of Battleford |
| Local 3012 | Saskatchewan Council for International Cooperation (SCIC) |
| Local 3056 | Wynyard Community Clinic |
| Local 3077 | Lakeland Regional Library Board (North Battleford) |
| Local 3139 | Town of Wilkie |
| Local 3207 | Cheshire Homes of Regina Society |
| Local 3287 | University of Saskatchewan Academic Sessional Lecturers |
| Local 3354 | Battlefords Residential Services |
| Local 3364 | Mackenzie Society Ventures (Preeceville) |
| Local 3370 | Nipawin & District Services to the Handicapped |
| Local 3404 | All Nations' Healing Hospital (Fort Qu'Appelle) |
| Local 3462 | Cypress Hills Abilities Centre |
| Local 3477 | Society for the Prevention of Cruelty to Animals (Saskatoon) |
| Local 3481 | Rail City Industries (Melville) |
| Local 3583 | Wilkie Independent Living |
| Local 3597 | Town of Watrous |
| Local 3680 | YAIL Harbour Inc. (Yorkton) |
| Local 3683 | Accent on Kids Early Learning & Childcare Inc. (Yorkton) |
| Local 3693 | Families First Child Care (Saskatoon) |
| Local 3730 | Greater Saskatoon Catholic Schools |
| Local 3736 | North Saskatchewan Laundry (Prince Albert) |
| Local 3761 | SUN |
| Local 3766 | Regina Public Schools |
| Local 3777 | Town of Cudworth |
| Local 3862 | Harvest Community of the Prairie Inc. – SARCAN (Regina) |
| Local 3963 | Prince Albert Cooperative Health Centre (Prince Albert) |
| Local 3967 (Merged to Local 5430) | Regina Qu'Appelle Regional Health Authority |
| Local 3990 | Al Ritchie Community Assoc. (Regina) |
| Local 3990-01 | Regina Women's Centre (U of R) |
| Local 3990-02 | Core Community Assoc. (Regina) |
| Local 3996 | Bow Valley Villa (Oxbow) |
| Local 4131 | Humpty Dumpty Child Care (Prince Albert) |
| Local 4152 | Canadian Deaf Blind & Rubella Assoc. (Saskatoon) |
| Local 4174 | Eatonia Personal Care Home |
| Local 4195 | Saskatchewan Rivers School District |
| Local 4254 | Prairie Spirit School Division |
| Local 4324 | Redvers Activity Centre |
| Local 4330 | Self-Help & Recreation Education (SHARE) (Prince Albert) |
| Local 4335 | Town of Wadena |
| Local 4341 | Town of Gravelbourg |
| Local 4372 | Qu'Appelle Valley Friendship Centre (Fort Qu'Appelle) |
| Local 4438 | Town of Canora |
| Local 4449 | Glencairn Child Care (Regina) |
| Local 4552 | Deer Park Villa (Ituna) |
| Local 4561 | Moosomin Housing Authority/Town of Moosomin |
| Local 4568 | Prince Albert Safe Shelter |
| Local 4607 | Ile-a-La Crosse School Division |
| Local 4618 | Christ the Teacher School Division |
| Local 4643 | Regina Public Schools |
| Local 4666 | Le Centre Educatif Felix le Chat (Saskatoon) |
| Local 4670 | Regina Recovery Homes – Pine Lodge (Indian Head) |
| Local 4678 | Rilling Bus Company – Humboldt/Horizon School District (Lemburg) |
| Local 4747 | Living Sky School Division |
| Local 4748 | Cosmopolitian Learning Centre (Regina) |
| Local 4754 | Chinook School Division |
| Local 4777 (Merged to Local 5430) | Prince Albert Parkland Regional Health Authority |
| Local 4784 | Good Spirit School Division |
| Local 4797 | Northwest School Division |
| Local 4799 | Horizon School Division |
| Local 4802 | Sun West School Division |
| Local 4828 | SFL |
| Local 4838 | Resort Village of Candle Lake |
| Local 4869 | South East Cornerstone School Division |
| Local 4875 | North East School Division |
| Local 4909 | Biggar community Assoc. |
| Local 4980 (Merged to Local 5430) | Sunrise Regional Health Authority |
| Local 5080 | Melfort Daycare |
| Local 5111 (Merged to Local 5430) | Prairie North Regional Health Authority |
| Local 5123 | Good Spirit School Division |
| Local 5252 | Prairie Valley School Division |
| Local 5430 | CUPE Health Care Workers of Saskatchewan |
| Local 5506 | Holy Trinity Catholic School Division |
| Local 5512 | Prairie South School Division |
| Local 5791 | University of Regina/McKenzie Art Gallery/First Nations University of Canada |
| Local 5999 (Merged to Local 5430) | Sun Country Regional Health Authority |
| Local 8443 | Saskatoon Public Schools |