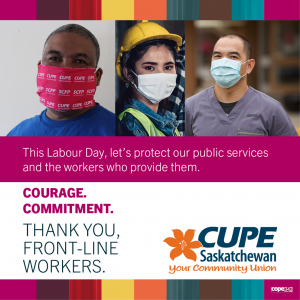 A message from Judy Henley, President of CUPE Saskatchewan, printed in the Labour Day feature of the Regina Leader-Post and Saskatoon StarPhoenix (print issue: Friday, September 4, 2020).
This week I am reflecting on what Labour Day meant historically, what it will look like during the COVID-19 pandemic and what it may look like in the future.
Labour Day, a statutory holiday in Canada since 1894, was created to honour the labour movement and the social and economic achievement of workers. Every year we celebrate the contributions workers have made to the strength, prosperity and well-being of our country.