Welcome to the "Action Centre" – the place where a moment of your time can make a big difference.

Have your say about Saskatchewan's health care restructuring plan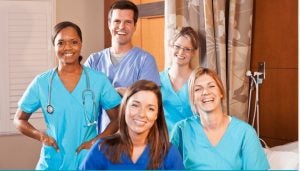 Saskatchewan has gone through two health care mergers.
Both instances significantly disrupted the whole health system and distracted from the main purpose of the health care system: which is to provide quality care to patients and residents.
We need to make sure that the process in place considers quality of care, and protects our public health care system.
If you are concerned about the impact health reorganization, please write a letter today.
---
The Saskatchewan government is underfunding education. Over half of our school divisions are experiencing budget shortfalls, and it is our children who are feeling the impact.
A decrease in support staff will diminish the quality of education for all students. Students who require additional support will struggle in school if they don't have access to the support.
Our government must invest adequate funding in education to allow school divisions access to the required resources, ensuring all Saskatchewan children's rights to a quality, safe and healthy education.
Every student deserves access to the classroom support he or she needs.
If you are concerned about the impact the lack of education funding will have on your children and your community, make your voice heard.
---
Vote on October 26 – Saskatchewan Community Elections 2016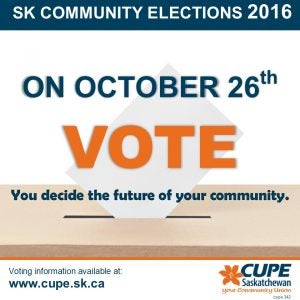 Elections for municipal officials and school board trustees are taking place in communities across Saskatchewan on Wednesday, October 26, 2016.
Your vote on October 26 can decide the future of your community.
The decisions, policies and budgets made by local elected officials affect our everyday quality of life and determine access to public services. As CUPE members, it's important that candidates support the work we do to deliver public services that strengthen our communities and enrich people's lives.
nm cope 342