Each year, CUPE Saskatchewan Division hosts conferences to address issues facing CUPE members and the public services we provide to Saskatchewan communities.
UPCOMING CONFERENCES: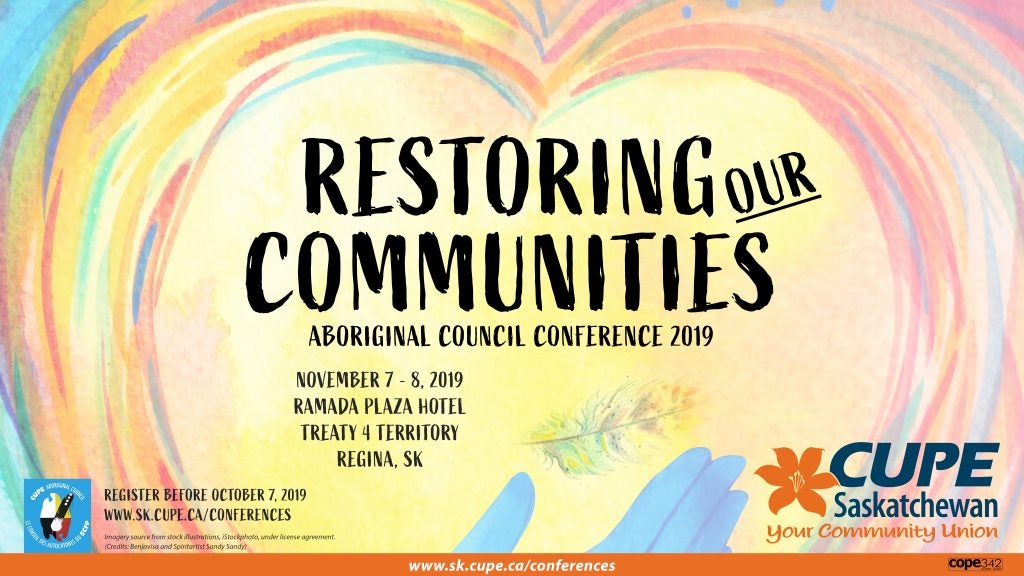 ABORIGINAL CONFERENCE 2019
When: November 7 – 8, 2019
Where: Ramada Plaza Hotel on 1818 Victoria Avenue in Regina, SK, on Treaty 4 Territory.
Open to all CUPE members (and members of other unions), the CUPE Saskatchewan Aboriginal Council Conference 2019 seeks to build union activism with a focus on equality and rights for Indigenous people in our workplaces and in our communities.
Elections will be held at the conference for two (2) positions on the Aboriginal Council Committee of CUPE Saskatchewan, each for a term of two (2) years.
The conference theme, Restoring Our Communities, reflects on the Truth and Reconciliation Calls to Action and efforts to bring about positive change, big and small, to heal injustice and restore our communities to places that are more inclusive and where people can live in dignity, equality and friendship.
Share the conference event link on facebook: www.facebook.com/events/359251801411098/
HOW TO REGISTER
1. Contact your Local Union to approve sponsorship of your registration.
2. Complete and submit the conference registration form with fee payment to CUPE Saskatchewan.
3. Book your accommodation through your Local Union (if required).
RATES & DEADLINES
EARLY REGISTRATION before October 7, 2019
Affiliate $125 / person
Non-Affiliate $150 / person
LATE REGISTRATION after October 7, 2019
Affiliate $150 / person
Non-Affiliate $175 / person
ACCOMMODATION
Accommodation is available at the hotel where the
conference will be held — Ramada Plaza Hotel on
1818 Victoria Avenue in Regina, SK. Block rate deadline: October 7, 2019
Book online using this link by clicking here.
Or, call 306-569-1444 (you can leave a message).
Reference the block code: 1911CUPESA
AGENDA OVERVIEW
Thursday, November 7, 2019
8:30 a.m. Smudge and Registration
9 a.m. – 5 p.m. Conference Sessions (lunch provided)
7 p.m. Evening event
Friday, November 8, 2019
9 a.m. – 1 p.m. Conference Session
/nm cope 342
---
PAST CONFERENCES: