Each year, CUPE Saskatchewan Division hosts conferences to address issues facing CUPE members and the public services we provide to Saskatchewan communities.
UPCOMING CONFERENCE: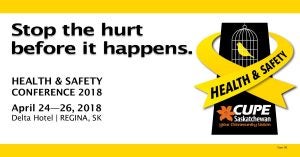 HEALTH AND SAFETY CONFERENCE 2018
Stop the hurt before it happens is the theme and focus of the CUPE Saskatchewan Health and Safety Conference to be held on April 24 – 26, 2018 at the Delta Hotel in Regina, SK. The conference will include guest speakers on selected topics and offers participants six workshops, from introductory to advanced training, to make our work as CUPE members safer and healthier.
Early registration deadline is March 23, 2018.
To book your accommodation online, click the following: Health and Safety Conference 2018 link
VIEW AND DOWNLOAD:
/nm cope 342
---
PAST CONFERENCES: