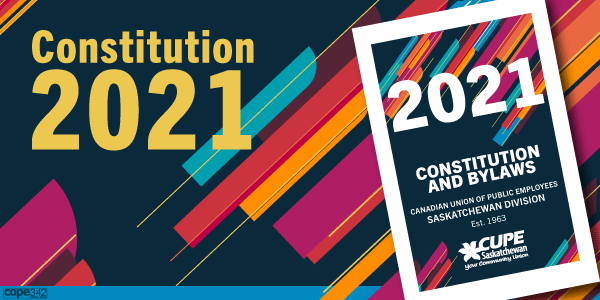 CUPE Saskatchewan is the provincial division of the Canadian Union of Public Employees (CUPE). 
CUPE Saskatchewan unites CUPE Local Unions to speak with one strong collective voice and works at the provincial level for legislative, policy, and political change on issues affecting CUPE members and the public services they provide each and every day.
CUPE Saskatchewan Division was granted its charter by the national union on September 24, 1963. The founding convention of CUPE Saskatchewan Division was held on May 30-31,1964 in Saskatoon at the Cavalier Motor Inn. At the time of its formation, CUPE in Saskatchewan represented about 5,000 workers. Today, CUPE membership in Saskatchewan has grown to 30,000.
The Constitution and Bylaws of CUPE Saskatchewan were last amended by the 2021 Annual Convention.
At the 2021 Annual Convention of CUPE Saskatchewan, several constitutional amendments were adopted that take effect beginning in the even-year election cycle at the 2022 Annual Convention.
The composition of the Executive Board will change from a 16-member board to an 18-member board with newly dedicated and additional equity positions, expanded from the existing diversity board position, to represent: LGBTQ2+ Workers, Racialized Workers and Workers with Disabilities (Refer to Article 4, Article 5 and Article 8, Sections 8 – 10). These positions will be elected in the Diversity Caucus at the 2022 Annual Convention. A supplemental guide will also be available for registered delegates to the 2022 Annual Convention explaining the changes to election procedures at the Diversity Caucus.
The Committee Against Racism and Discrimination, a standing committee of CUPE Saskatchewan, will also be expanded from a total of three (3) member positions to eight (8) member positions, with five (5) member positions to be elected beginning in the 2022 Annual Convention even-year election cycle and the remaining positions appointed in odd-numbered years (Refer to Article 5, Section 9). All other standing committees will remain at a total of three (3) member positions each, with two (2) member positions elected in even-numbered years at the Annual Convention and one position appointed in odd-numbered years (Note: The Indigenous Council composition is determined through the annual Indigenous Peoples' Conference held by CUPE Saskatchewan).
In addition to structural changes, the 2021 Annual Convention adopted amendments to update travelling expenses (Refer to Article 11).
View and Download:
Print copies are available for Local Unions by contacting the Division Office.
Previous Versions:
Updated: Feb. 2022 /nm cope 342