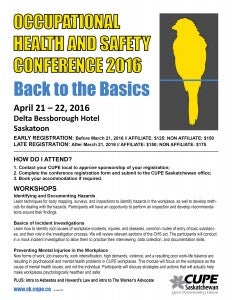 BACK TO THE BASICS
April 21 – 22, 2016
Delta Bessborough Hotel
Saskatoon

EARLY REGISTRATION: Before March 21, 2016 // AFFILIATE: $125; NON AFFILIATE: $150
LATE REGISTRATION: After March 21, 2016 // AFFILIATE: $150; NON AFFILIATE: $175
HOW DO I ATTEND? 
1. Contact your CUPE local to approve sponsorship of your registration;
2. Download and complete the conference registration form and submit to the CUPE Saskatchewan office;
3. Book your accommodation if required.
WORKSHOPS
Identifying and Documenting Hazards
Learn techniques for body mapping, surveys, and inspections to identify hazards in the workplace, as well to develop methods for dealing with the hazards. Participants will have an opportunity to perform an inspection and develop recommendations around their findings.
Basics of Incident Investigations
Learn how to identify root causes of workplace incidents, injuries, and diseases, common routes of entry of toxic substances, and their role in the investigation process. We will review relevant sections of the OHS act. The participants will conduct in a mock incident investigation to allow them to practice their interviewing, data collection, and documentation skills.
Preventing Mental Injuries in the Workplace
New forms of work, job insecurity, work intensification, high demands, violence, and a resulting poor work-life balance are resulting in psychosocial and mental health problems in CUPE workplaces. This module will focus on the workplace as the cause of mental health issues, and not the individual. Participants will discuss strategies and actions that will actually help make workplaces psychologically healthier and safer.
PLUS: Intro to Asbestos and Howard's Law and Intro to The Worker's Advocate