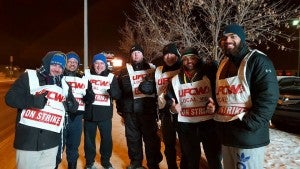 CUPE Saskatchewan supports members of UFCW Local 1400 who are on strike at the Best Western Seven Oaks Inn in Regina. We encourage CUPE members and all people passing through Regina to withdraw business from the Seven Oaks Inn for the duration of the strike.
For a list of alternate unionized hotels in the Regina area, please visit this page on the Saskatchewan Federation of Labour website.
We also encourage everyone who can to participate in the solidarity picket this Wednesday, January 6 at 5 PM. There will be coffee provided by the Regina and District Labour Council. The Facebook event page for this important solidarity action is here.
Location: Best Western Seven Oaks Inn, 777 Albert St, Regina, Saskatchewan
Time: 5 PM – 6 PM (or later), Wednesday, January 6
What: Solidarity Picket with striking UFCW 1400 members