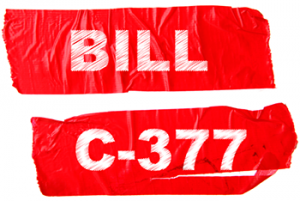 REGINA – CUPE Saskatchewan, representing 30,000 workers in the province, applauds the federal government for their decision to waive the onerous and additional reporting requirements for labour organizations under Bill C-377.
The Minister of National Revenue made the announcement yesterday that they would be waiving the requirement for labour organizations to submit detailed financial reports and information on political activities, as well as non-labour related activities.
The bill is scheduled to come into force December 30th, 2015 and the minister has indicated that that this move signals the government's intent on repealing Bill C-377 altogether.
The ministry notes in a press release that legislation requiring unions to make financial information available to their members is already in place.
"We applaud the moves taken today by the government against this arbitrary bill that in all likeliness was a violation of the constitution and our charter rights," said Tom Graham, President of CUPE Saskatchewan.
"We are pleased to see the federal government make moves that will honour their election promise to repeal the bill."
– 30 –
Contact: Tom Graham, President of CUPE Saskatchewan, 306.757.1009