---
2023-24 PROVINCIAL BUDGET:
---
2022-23 PROVINCIAL BUDGET:
---
2021-22 PROVINCIAL BUDGET:
---
2020-21 PROVINCIAL BUDGET:
---
2019-20 PROVINCIAL BUDGET:
---
2018-19 PROVINCIAL BUDGET:
---
2017-18 PROVINCIAL BUDGET:
Sask Party budget punishes working families for government's mismanagement while rewarding corporations, says CUPE
The latest provincial budget will not put the province back on fiscal track and will have a detrimental effect on public services in this province and on the lives of those who provide them, according to CUPE.
"The budget paints a clear picture of how poorly our province has been run over the last nine years, and it is not pretty," said Tom Graham, president of CUPE Saskatchewan. "The Sask Party's reckless decisions, like building P3 schools, embracing Lean contracts, and selling off public assets, got us into this mess. And now the only solution they have for a situation they created is to punish frontline workers and cut public services while decreasing taxes for their rich corporate donors."
This budget included cuts to education funding, selling off the Saskatchewan Transportation Corporation, increases to long term care costs for families, reduction to regional parks funding, massive cuts for regional libraries, and funding decreases to post-secondary education.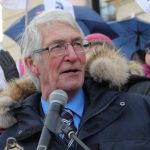 Graham: Rally for Saskatchewan shows solidarity to resist austerity cuts, rollbacks, and privatization
Message from the President.
Last week on International Women's Day, members of CUPE alongside other public sector unions and concerned residents, demonstrated against the Sask Party government's short-sighted financial mismanagement and its harmful cuts to public services and the very people who work each and every day to provide them. It was reported to be the largest rally in recent years. It is also a time when so very much is at stake.
RESOURCES:
A new report from CUPE senior economist Toby Sanger entitled 'Debunking the Deficit' challenges the Sask Party government's declaration of a fiscal crisis.
A new report commissioned by the Canadian Union of Public Employees has found that the proposed taxation changes in the 2017-2018 budget will disproportionally impact low income families and individuals.
Related 2017-2018 provincial budget articles:
---
PAST BUDGETS:
/cope342