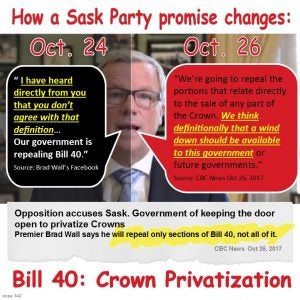 The day before the throne speech, Premier Brad Wall promised in a video on his facebook page that he heard Saskatchewan people and his government would repeal its controversial Crown Corporation privatization legislation known as Bill 40. Now, with the promise only days old, the Sask Party government is already breaking its own promise to repeal Bill 40 and, instead, it will once again leave options open to shut down Crown Corporations through the backdoor.
"Breaking their own promise in the same week they told Saskatchewan people they would repeal Bill 40 is record-breaking hypocrisy and goes to show you can't trust the Sask Party to do the right thing and leave our Crown Corporations alone," said Tom Graham, President of CUPE Saskatchewan. "It's deeply disappointing the political games of privatization continue with this Sask Party government in the months left before Premier Wall's announced retirement, and its leadership hopefuls seem ready to rubber stamp the hypocrisy."
In his video message earlier this week, Premier Wall appealed to Saskatchewan people with the opening phrase: "Saskatchewan, we've heard you," stating he heard directly from Saskatchewan people that they did not agree with the definition contained in Bill 40 and pledged his government would repeal Bill 40. Days later, the Premier has stated the government will only "repeal provisions" in the legislation rather than repeal the entire Bill 40 as previously promised.
"It seems Saskatchewan people will need to be louder for the Sask Party government to stop their political games with our Crowns and public services," said Graham.
/nm cope342