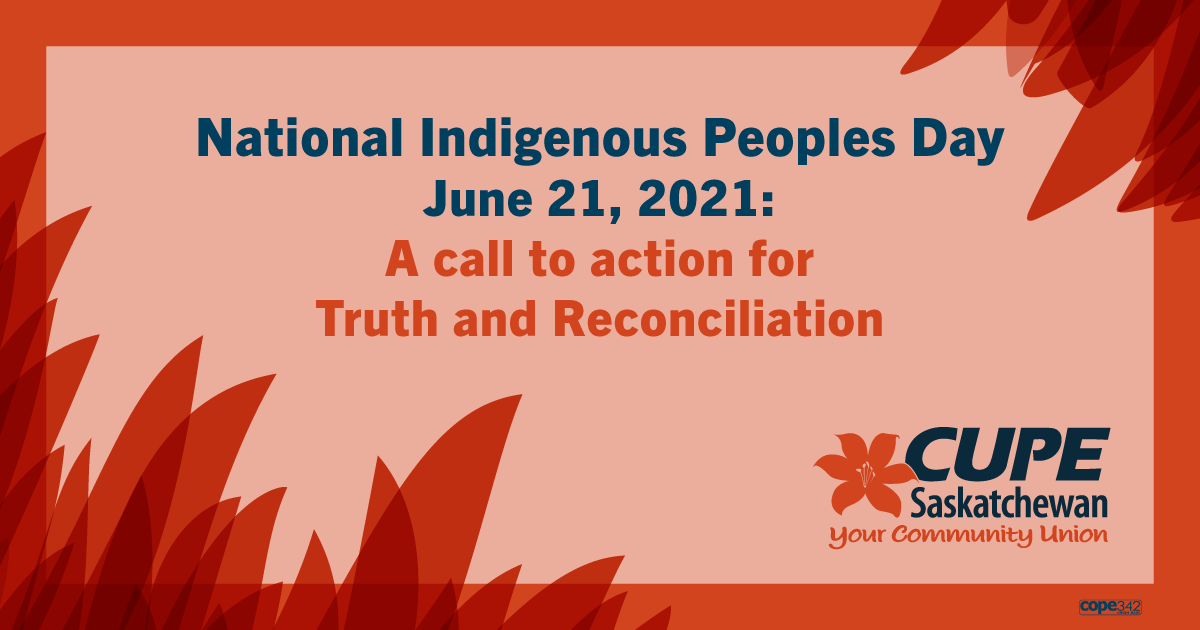 National Indigenous Peoples' Day on June 21 is an annual opportunity to honour and celebrate the diverse cultures of First Nations, Métis and Inuit peoples. The annual celebrations are also a time to call for greater action for truth and reconciliation, after a challenging year that has exposed long-standing structural injustice through the pandemic and the painful legacy of violence through colonialism faced by Indigenous peoples as we collectively mourn the recent tragic discovery of 215 Indigenous children buried at a mass grave site at the Kamloops Residential School in Tk'emlúps te Secwe̓pemc territory, British Columbia. CUPE Saskatchewan stands in solidarity to mourn the victims of Kamloops Residential School, and we join the collective call for greater action for truth and reconciliation.
Click here for a list of events and resources. 
Saskatchewan's largest union is committed to making workplaces and our union inclusive, fair, and welcoming for our Indigenous and Métis members.
In the workplace, we have led the way with partnership agreements to improve job opportunities and collective agreement language that recognizes and accommodates cultural practices, guards against discrimination, and provides support for improving cultural understanding and respect for diversity at work.
In the community, we celebrate the diverse cultures of our Indigenous members.
We advocate for human rights and to honour ongoing treaty relationships.
We challenge the disparity of access to vital public services such as the unacceptable lack of clean drinking water in far too many Indigenous communities.
We join in the call for justice for those missing and murdered.
We pledge to do our part towards reconciliation. We are committed to educate CUPE members about the harmful legacy of the residential school system and the ongoing harm of Canada's colonial policies and laws.
CUPE is committed to working with Indigenous communities to end systemic racism, to advance the action needed to end inequality, and to build a just recovery from the pandemic.
Let's join in celebrating National Indigenous Peoples Day and calling for greater action for truth and reconciliation!
Online and Community In-Person Events:
Resources for CUPE Local Unions:
Learn more about CUPE Saskatchewan's activism:
Learn more about the union's Indigenous Council and past conference:
Links to educational resources:
Article published by the Division Office / NM cope 342