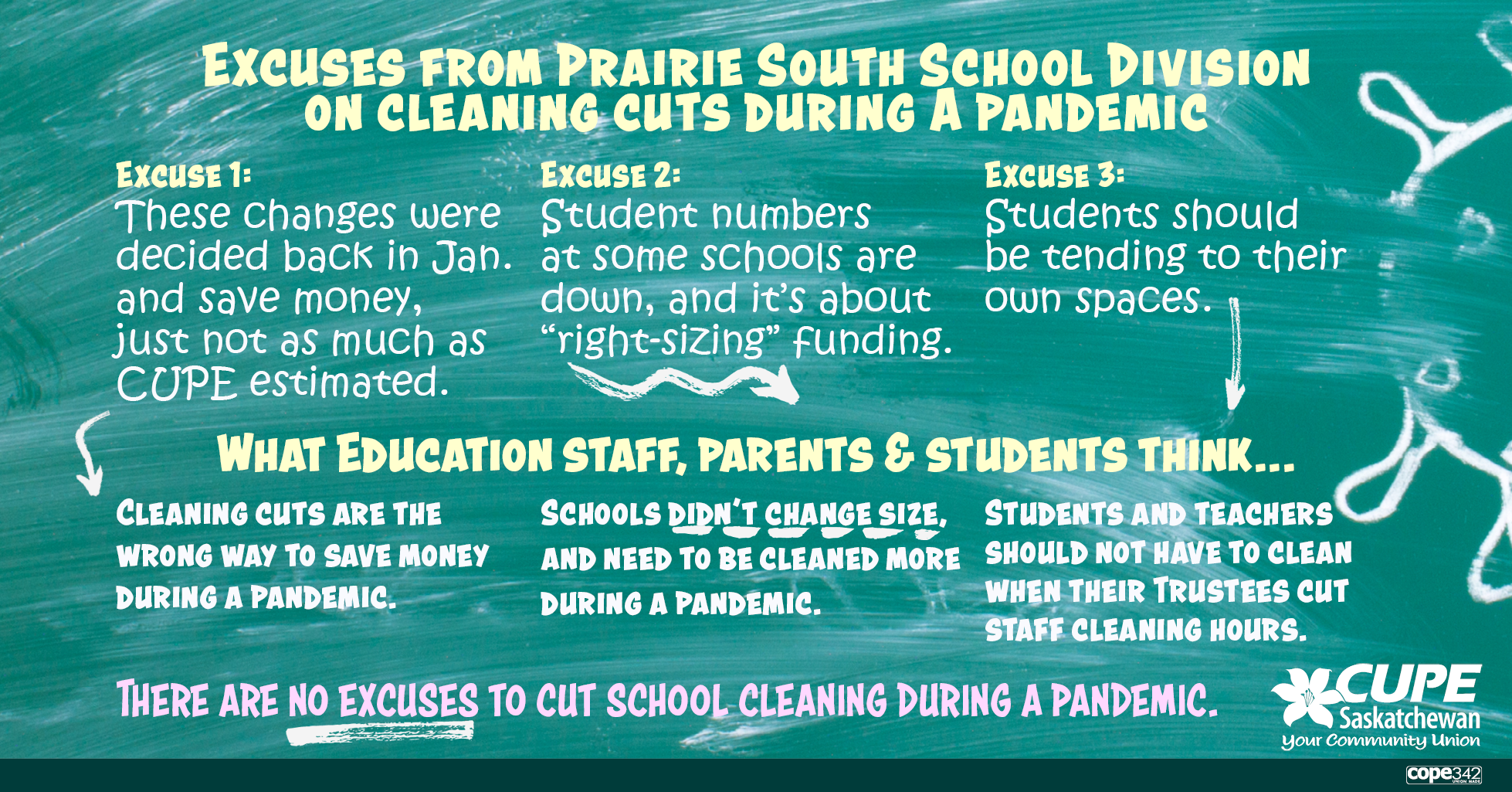 In a recent Regina Leader-Post article published online on August 19 and in the paper August 20, titled: "Prairie South SD says safety not impacted by cuts", the chair of Prairie South Schools Board of Trustees, Robert Bachmann, has finally responded to the growing concern shared by parents and staff about the decision to cut over 20 hours of cleaning per day in Moose Jaw area schools. Bachmann is claiming that somehow cutting cleaning hours during a pandemic isn't a safety risk. It's a claim that just can't be backed-up, and the excuses as to why it is occurring just don't add up, says CUPE.
"There is no excuse to justify cutting school cleaning during a pandemic, and cleaning hours in Prairie South School Division should be restored and enhanced before the doors open for back-to-school in September," says Judy Henley, president of CUPE Saskatchewan, in response to the article and the comments by the Division's Board chair.
Custodial service cuts impact daily cleaning hours in AE Peacock Collegiate, Riverview Collegiate, Central Collegiate, Prince Arthur School, Westmount School, William Grayson School, and the 9th Avenue Board Office and Maintenance Building in Moose Jaw.
In the article, the Board chair made several excuses.
Excuse One: These changes were decided back in January and save money, just not as much as CUPE estimated it does.
CUPE's response: Cleaning cuts are the wrong way to save money during a pandemic.
Excuse Two: Student numbers at some schools are down, and it's about "right-sizing" funding.
CUPE's response: The square footage of school division facilities has not decreased with enrollment, and these spaces need to be cleaned and disinfected more stringently during a pandemic.
Excuse Three: Students should be tending to their own spaces.
CUPE's response: Students and teachers should not have to clean when their Trustees cut staff hours dedicated to facility maintenance and cleaning.
---
What can you do?
Concerned parents are invited to join CUPE by contacting the Trustees of the Prairie South School Division and their MLA to say:
There are no excuses to cut school cleaning during a pandemic.
Contact information:
DIRECTOR OF EDUCATION: TONY BALDWIN
baldwin.tony@prairiesouth.ca
MLAs
MR. GREG LAWRENCE, MLA for Moose Jaw-Wakamow
greglawrencemla@sasktel.net
(306) 694-1001
MR. WARREN MICHELSON, MLA for Moose Jaw North
moosejawnorthmla@shaw.ca
(306) 692-8884
TRUSTEES
---
Media contacts for CUPE Saskatchewan:
Nathan Markwart 306-537-9426
Issued by Division Office: /n.m. cope 342