The Sask Party government introduced an austerity 2017-18 budget that makes devastating cuts to public services, life harder and more expensive for Saskatchewan families, and puts people out of work.
The provincial budget delivered on March 22nd was the cruelest, harshest budget in Saskatchewan's history.  
It's not just one budget. If left unchallenged, the 2017-18 budget sets a harmful plan over the next three years causing:
deep, devastating, and irreversible cuts to Saskatchewan's public services,
selling-off and privatization of important public services and Crown Corporations,
job losses and wage cuts that hurt both families and the economy,
cuts to municipal funding that leaves you paying more in property taxes and reduced services at a local level; and
creates an unfair tax system as working families pay more consumption taxes while the wealthy get breaks.
Instead of "meeting the challenge", the Sask Party government is making you pay a high price for their mismanagement.
It's the wrong priorities, and it's bad for the economy.
Together, let's Stand Against the Cuts.
---
UPCOMING EVENTS:
Opposition to Education Cuts. Week of Action, May 8 – 16, 2017, hosted by: I Matter Sask
CUPE members in solidarity with I Matter Sask are encouraged to participate in a week of action.
Click here to find out more about the Opposition to Education Cuts week of actions.
Rally on May 16, 2017 in Regina at the Legislature.
Ring those phones on May 16, 2017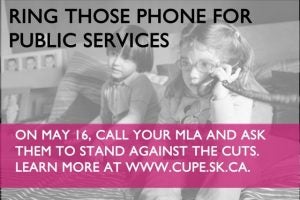 The funding cuts in the last provincial budget are putting the public services Saskatchewan people rely on at risk.
We need to take action to ensure these funding cuts are reversed.
May 18 is the last day the legislative assembly is sitting. We need to send a strong message before this session ends: that the people of Saskatchewan demand the government to reverse the harmful budget cuts, reinstate the corporate tax rate, and protect local jobs.
–Click here for a sample script here
–Click here for MLA contact information
Don't forget to challenge others on Facebook and Twitter to do the same. Feel free to post a selfie of your phone call using the hashtag #stopthecuts.
Rally on May 18, 2017 in Prince Albert.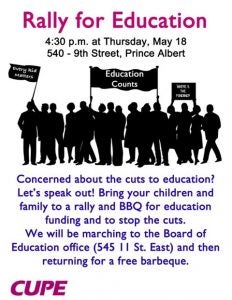 Rally on May 24, 2017 in Regina at the Legislature.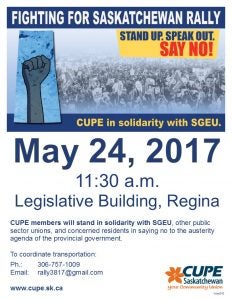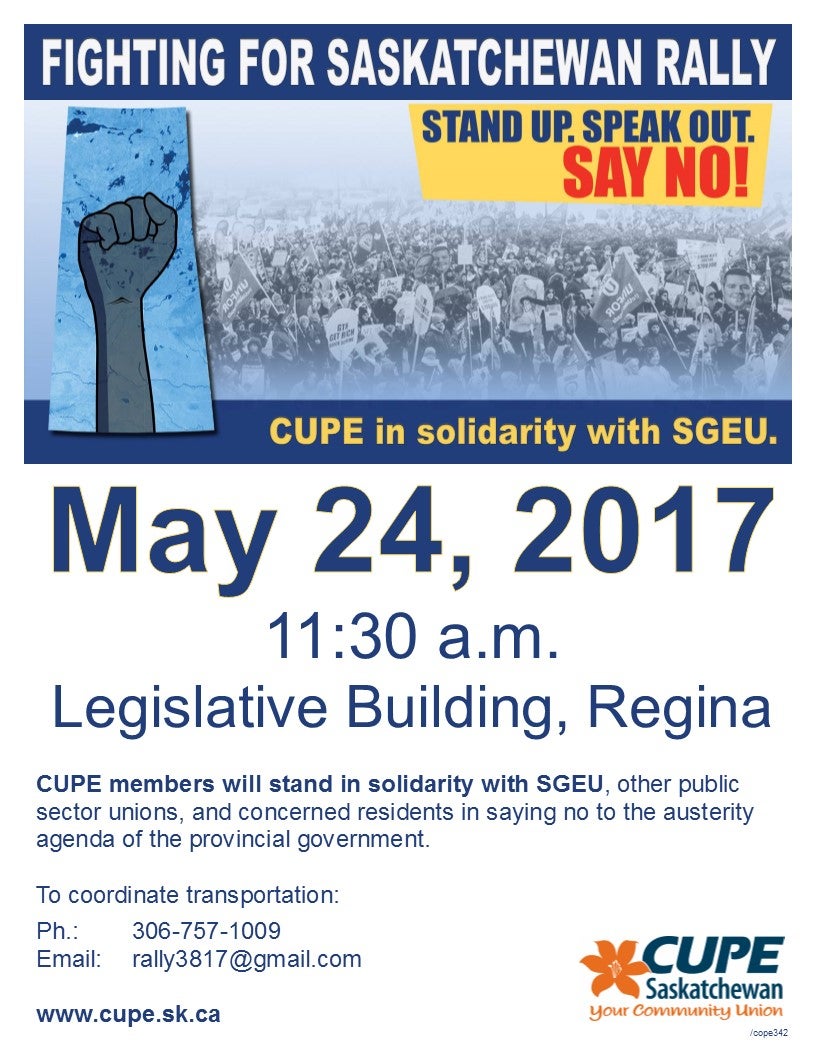 ---
TAKE ACTION and SPREAD THE WORD:
Stand Against the Cuts – Send a Letter
The provincial budget delivered on March 22nd was the cruelest, harshest budget in Saskatchewan's history.
The Sask Party government's cuts to public services, to public sector organizations and the closure of the Saskatchewan Transportation Company (STC) will have devastating consequences for working families in this province. This mean-spirited budget means that hundreds of cancer patients no longer have STC to get to medical appointments. Municipalities have been forced to cuts services and raise taxes. Our children will lose support in the classroom with education cuts. And families across the province will have to pay more for essential public services – like hearing aids, sleep apnea equipment and long term care beds.
We need to speak out against the cuts. Please send a letter to the Sask Party today.
---
RESOURCES:
Did you know that reversing the misguided tax cuts to corporations and the wealthy could actually fund many of the harmful cuts the Sask Party is making in its budget?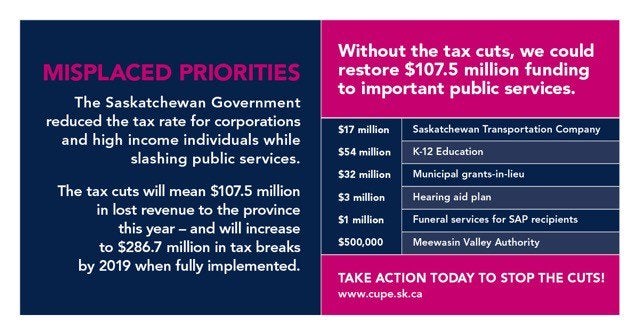 /cope342