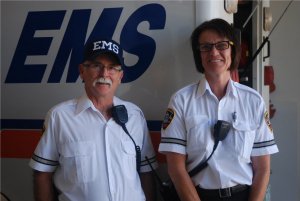 REGINA: The Canadian Union of Public Employees (CUPE) is urging the provincial government to implement an integrated, fully public ground emergency medical response system.
The government is currently undertaking a system review of ground emergency medical services (EMS) in Saskatchewan. Submissions are due by July 31, 2017.
"CUPE strongly believes that provincial and publicly delivered EMS would allow for better coordination across the province, improve access and timeliness of EMS in rural Saskatchewan, and result in lower costs to residents," said Sandra Seitz, president of the CUPE Saskatchewan Health Care Council. "This review is the perfect opportunity for this government to address the many issues in Saskatchewan's EMS system."
Evidence from the public provincial EMS system in British Columbia shows that this is the most efficient, patient-centred, and cost-effective model for EMS. Furthermore, centralized, public ground EMS can improve services for rural Saskatchewan.