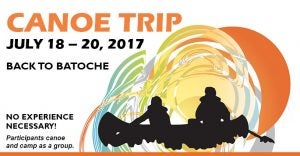 The annual CUPE Saskatchewan Back to Batoche Canoe Trip will be held on July 18 – 20, 2017, coinciding with the Back to Batoche celebrations of the Métis Nation in Saskatchewan.
During this annual voyage, participants navigate the waters of the South Saskatchewan River by canoe beginning at Clarkboro Ferry crossing (formerly Warman Ferry crossing) and arriving at the historic Métis community of Batoche – learning about Aboriginal culture, history, and traditions along the way.
After the canoe trip, participants are encouraged to attend the Back to Batoche festivities that run July 20 – 23, 2017.
Early registration deadline: June 16, 2017