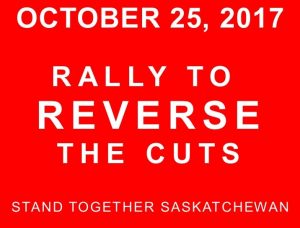 Rally at the Legislature on October 25, 2017. 
11:30 a.m. MARCH FROM ROYAL SASK MUSEUM
12:00 p.m. (NOON) RALLY AT THE LEGISLATURE
As the legislature resumes for the fall sitting, let's continue to stand against cuts, rollbacks, waste, scandal and mismanagement.
Join us as we rally in solidarity with other unions and concerned residents of Saskatchewan.