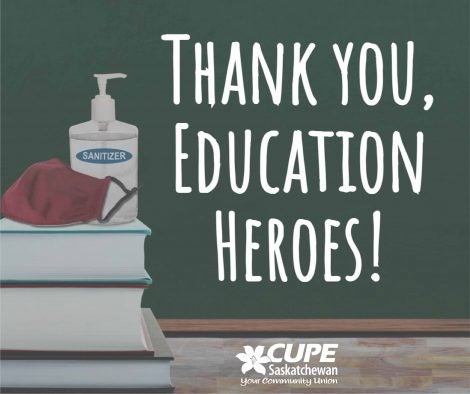 During Teacher and Education Staff Appreciation Week in Saskatchewan, February 7 to 13, let's recognize the vital contributions of all the unsung heroes among our many education support workers across the province that keep our schools and school bus transportation safe, and support students with in-class and remote learning, during this challenging coronavirus pandemic.
Throughout these most difficult of times, education support workers have shown their tireless dedication to student learning and wellbeing. Education support workers have been instrumental in keeping our schools and student transportation safe, while also facing increased risk of exposure and illness performing their jobs.
Take a moment to say thank you by sharing this message.
From custodians/caretakers to trades and maintenance workers, educational assistants to library assistants and technicians, school administrative and clerical assistants to school bus drivers, social workers to school counsellors, speech and language assistants to interpreters and braillist, information technology specialists to administrative support staff in school division offices, community school nutrition coordinators to food services assistants and more, CUPE education support workers are here for Saskatchewan students.
The Canadian Union of Public Employees (CUPE) proudly represents over 7,000 education support workers across Saskatchewan in the K-12 school system.
RELATED ARTICLES:
Read more about how CUPE education support workers are assisting student learning during the pandemic:
---
Published by the Division Office / nm cope 342