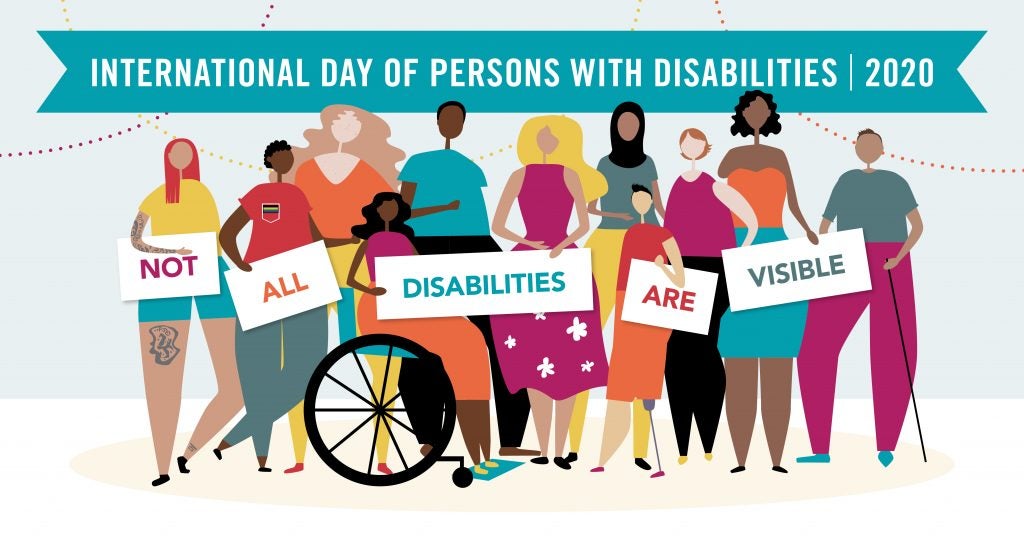 "Not all Disabilities are Visible" is the theme and call to action around the world on December 3, 2020, the International Day of Persons with Disabilities. CUPE Saskatchewan renews its commitment to advocate for equality and disability rights in our workplaces, our union, and our communities – and to build a recovery from the pandemic that is more accessible, inclusive, and promotes the full participation and greater economic security for people living with disabilities.
About one in every four Saskatchewan adults identify as having a disability, and many of us will experience a temporary or permanent disability in our lifetime. The global crisis of the coronavirus disease (COVID-19) has widened pre-existing inequalities in communities, and exposes the extent to which there is exclusion in our society.
---
Rising inequality and risks for people living with disabilities during the pandemic 
The devastating impacts of COVID-19 have disproportionately affected people living with disabilities, as well as poorer communities and in individuals who have pre-existing conditions. In fact, fatalities from COVID-19 are measurably more common among equity-seeking groups, including communities of colour and people with disabilities. With increased stress and isolation, as well as reports of worsening mental health, suicide and addiction rates, the pandemic continues to have an impact on mental health disabilities and well-being. We must also recognize that seniors with disabilities and many individuals with developmental or intellectual disabilities in long-term and group home settings are at particular risk, and the pandemic has highlighted the need for more public investment, attention to staffing levels and care standards, and the increased dangers associated with the privatization of long-term care.
According to a recent publication by Statistics Canada, over one-third of people with long-term conditions or disabilities report experiencing a temporary or permanent job loss or reduced hours during the pandemic, and over half of participants in the questionnaire are have difficulty meeting at least one financial obligation or essential need. This survey highlights the urgent need to address rising inequality and accessibility barriers by our governments at all levels.
Accessibility legislation and the need for provincial government action 
In Saskatchewan, we await for the provincial government to move forward on its pledge made in the 2019 Speech from the Throne to introduce new accessibility legislation, a recommendation made as part of Saskatchewan's Disability Strategy released in June, 2015. New legislation can lead to much needed change to address institutional and persisting barriers to accessibility. The provincial government has indicated that the forthcoming first phase of public consultation opportunities will be announced in early 2021. At the federal level, the Accessible Canada Act was passed in 2019 to address accessibility in federally-regulated services and workplaces.
On December 3, and every day, let us continue to work for change and remember that not all disabilities are immediately visible.
First proclaimed in 1992 by United Nations General Assembly Resolution, the International Day of Persons with Disabilities aims to promote the rights and well-being of persons with disabilities in all spheres of society and development, and to increase awareness of the situation of persons with disabilities in every aspect of political, social, economic and cultural life.
Further resources/links:
• Marianna Ofner, et al. "Covid-19 and People with Disabilities in Canada."
• United Nations Secretary General, António Gutteres. "COVID-19 Breakout and Persons with Disabilities" Video
• Northway, Ruth. "How Coronavirus highlights the Everyday Challenges of People with Learning Disabilities."
Published by the Division Office, / n.m. Cope 342