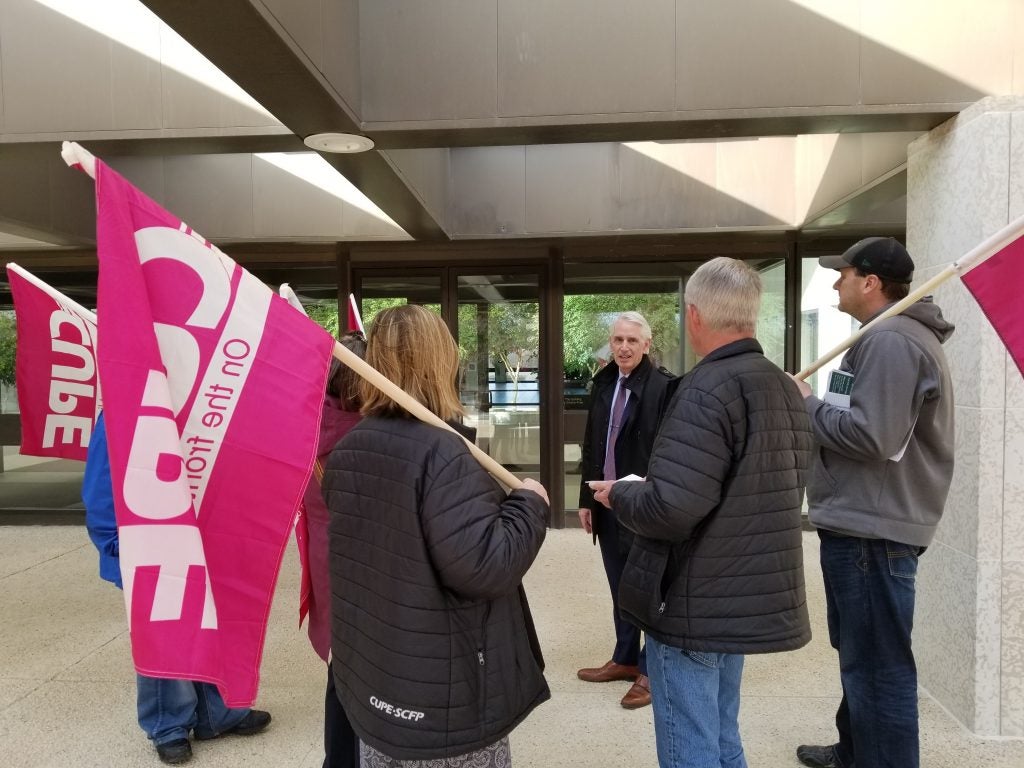 Greeted at the front doors with a surprise reception of their own by the union representing university support workers and their allies, the University of Saskatchewan (U of S) President was reminded during his visit to Regina yesterday that denying a fair deal and attacking workers' pensions are not an acceptable vision for Saskatchewan's largest university based in Saskatoon. The U of S President, Peter Stoicheff, was visiting Regina for a special event billed as an opportunity to network and hear about the bold vision from the university's top official. For the workers at the U of S, the wine and cheese closed-door networking event a city away from its main campus appeared glaringly out-of-touch with the labour discontent and strike looming at the university caused by the cuts its top brass is demanding from workers.
"The U of S President and the board should be reminded that they are being reckless and misguided in their attacks to the pensions of university support workers and wage freezes that deny the reality of a rising cost of living," said Tom Graham, President of CUPE Saskatchewan. "Dedicated university workers deserve much more respect than what they are getting from the USask President and the board of governors."

Graham strongly urges the president and senior leadership at the university to reconsider their misguided position and return to the bargaining table with a fair deal without reductions to the sustainable defined benefit pension plan for the university's support workers.
CUPE and its allies will continue to watch for fairness to be served on the wine and cheese tour of the university President. Join a CUPE solidarity rally along the tour!
The Canadian Union of Public Employees (CUPE) is the largest union in Saskatchewan. CUPE Saskatchewan represents over 30,000 members in public service occupations across the province. CUPE Local 1975 represents 2,000 workers at the University of Saskatchewan who work in food services, technician services, trades, security, clerical support, the library, grounds keeping and landscaping, caretaking, and many other areas.
For more information, contact Nathan Markwart at CUPE Saskatchewan at 306-757-1009.
/N.M. Cope342