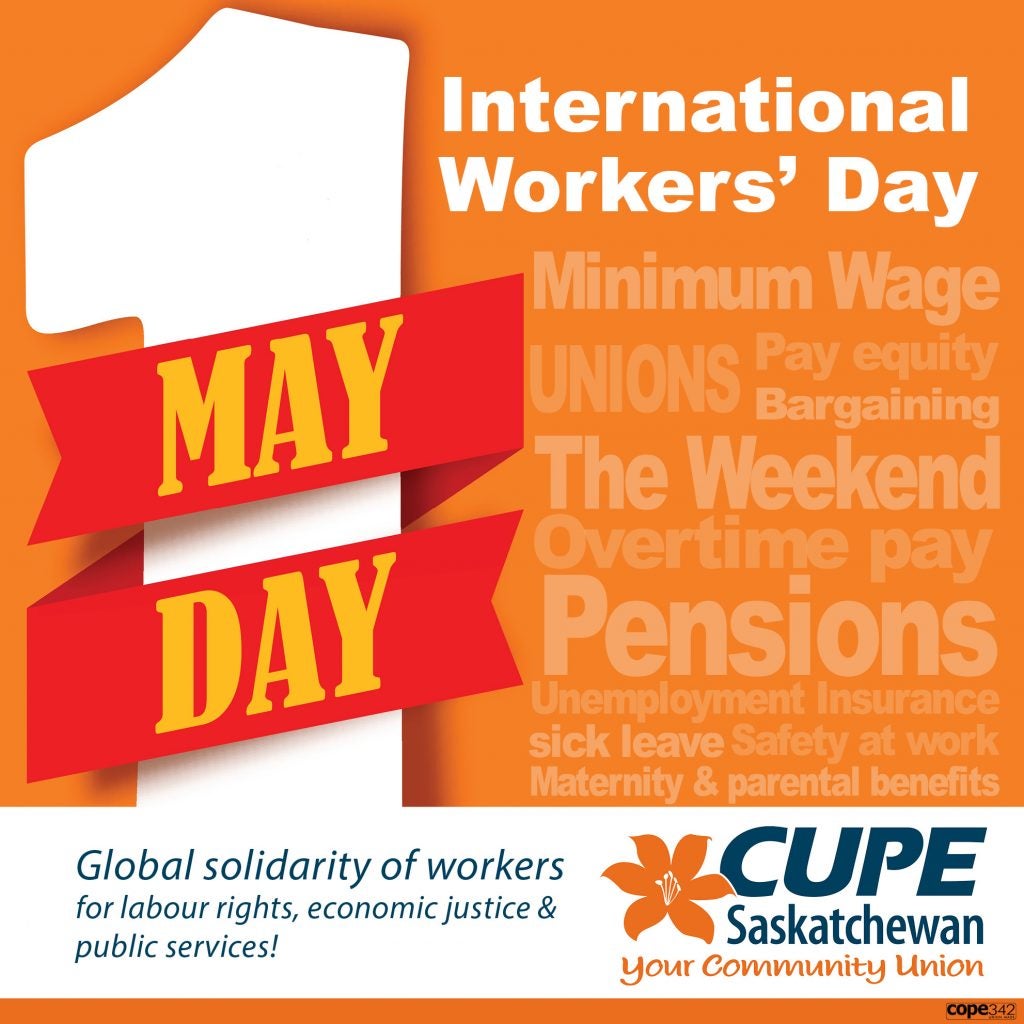 Happy International Workers' Day, also known as May Day!
Today on May 1, 2019, workers and their unions celebrate the achievements of the labour movement. Unions have fought hard and enduring struggles to establish collective bargaining and democracy in the workplace to bring decency, fairness and safety standards to work. Because of the labour movement, workers in Saskatchewan and Canada can rely on basic employment standards, occupational health and safety legislation, the right to join a union to bargain better working conditions and pay, pension plans, reliable and accessible public services and much more we sometimes take for granted. Workers have made gains by gathering together in their unions for solidarity in the workplace, at the bargaining table, on the picket line and by raising their voices together in their community and legislatures for justice, for dignity and for the interests of workers and their families before private profits.
Check out the May Works events hosted by the Regina & District Labour Council (Click read more). 
Today, workers and their unions resolve to keep fighting for fairness, better and more secure jobs, pensions that provide retirement security and fair pay that lifts people up from poverty. We resolve to be in solidarity as we seek a more fair and supportive transition for workers in a changing economy to ensure the jobs of the future are more secure jobs with dignity. We resolve to defend our public services and community infrastructure from privatization and the interests of greed.
Today, we resolve for more solidarity with workers and their unions around the world and to all those who need a union in their workplace, in our ongoing efforts for economic and social justice.
In 2019 and this May Day, we commemorate the 100th anniversary and legacy of the Winnipeg General Strike. In 2019, we also reflect on the 100th anniversary of the International Labour Organization in promoting the freedom of association and expression of workers around the world – to join and be active in unions, its contributions to international human rights and the challenges it faces to stay true to the interests and service of workers over profits.
Attend events in your community:
MAY WORKS EVENTS – REGINA,SK
Hosted by the Regina & District Labour Council
May Day Parade: Wednesday, May 1, 2019
5:00 pm – Line up at the Union Centre at 2709, 12th Ave, Regina, SK
6:00 pm – Parade starts. March to the Legislative Building.
7:00 pm – After Parade Party at Rebellion Brewing and presentation on Labour History.
Poetry Slam: Thursday, May 2, 2019
Bushwakkers Arizona Room, 2206 Dewdney Ave, Regina, SK
7:00 – 8:00 pm – Workshop on how to write and deliver spoken word poetry.
8:00 pm – Performances by local spoken word poets and an open mike.
Karaoke: Friday, May 3, 2019
7:00 pm until late at the Gay and Lesbian Community of Regina (Q Nightclub & Lounge), 2070 Broad St, Regina, SK
We will end the week with Labour Songs and coming together in solidarity! "Power to the people and workers!"
Find out more about the above events at: www.reginalabour.ca/may_works
/Cope342