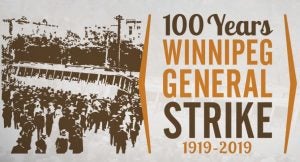 CUPE Saskatchewan joins the Labour Movement in commemorating 100 years since the Winnipeg General Strike.
Telephone calls in the city of Winnipeg went unanswered and patched through in the morning of May 15, 1919. Women telephone operators would be the first among many brave workers to walk off the job and withdraw their labour in solidarity for a greater cause. By 11 a.m., Winnipeg was grinding to a halt as courageous workers, both unionized and those not represented by a union, walked off the job with their fellow co-workers in numbers that grew up to more than an estimated 35,000 people strong. The strikers and supporters demanded living wages and the recognized right to collectively bargain better pay and conditions from their employers and government. This historic mass demonstration in Canada's history, known as the 1919 Winnipeg General Strike, lasted six weeks and ushered in a legacy of reforms, labour rights, social programs and subsequent hard-fought gains made by workers organizing together in unions. It made clear that workers have power when they stand together in solidarity. While the strike ended in violence and repression, its legacy lives on and the courage of those who risked their livelihoods and life for a better world should not be forgotten.
Click here to watch the short video by the Canadian Labour Congress on the Lessons from the 1919 Winnipeg General Strike.
/Nm Cope342
Read more: