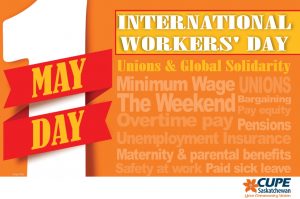 May 1st is International Workers' Day (May Day). Today we celebrate the achievements of the trade union movement and express solidarity to all workers in the struggle for labour rights and economic justice around the world. Labour rights are human rights!
International solidarity is one of the most powerful tools we have to challenge economic injustice and income inequality, defend public services against privatization, and support the right of all workers to organize into unions and fight for decent jobs, pay, pensions for retirement security, working conditions and dignity.
CUPE is proud to be a leader by example through the Global Justice Fund to support and engage with trade unions and social movement organizations across borders.
Learn more:
Learn more about trade union movement struggles around the word by visiting the following links:
NM Cope 342