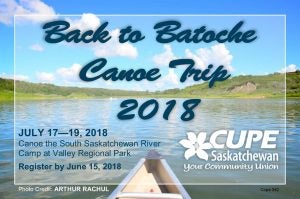 Registration is now open for the Back to Batoche Canoe Trip 2018. During this annual voyage, participants navigate the waters of the South Saskatchewan River by canoe beginning at Clarkboro Ferry Crossing (formerly Warman Ferry Crossing) and arriving at the historic Métis community of Batoche—learning Aboriginal culture, history and traditions along the way. The CUPE Saskatchewan canoe trip coincides with the Back to Batoche celebrations of the Métis Nation in Saskatchewan.
After the canoe trip, participants are encouraged to attend the Back to Batoche festivities. Spaces are limited! Register today! Please provide your email address with registration.
View and download:
EARLY REGISTRATION DEADLINE: JUNE 15, 2018
$50 per person before June 15, 2018
$70 per person after June 15, 2018
Only registrations received with full payment will be eligible for a reserved space on the trip. Questions? Contact Jodi at 306-757-1009.
CANOE TRIP ITINERARY
Participants arrive at Valley Regional Park (Rosthern, SK) and set-up camp in the evening between 4:00 – 7:00 p.m. with orientation at 7:30 p.m. on July 16, 2018. Valley Regional Park is located 35 minutes north of Saskatoon on Highway 11. Transport to and from camp to the river is provided each day.
DAY 1 July 17, 2018: Canoe from Clarkboro Ferry Crossing (Warman) to Hague (4-6 hours)
DAY 2 July 18, 2018: Canoe from Hague to Gabriel Dumont Bridge (4-6 hours)
DAY 3 July 19, 2018: Canoe from Gabriel Dumont Bridge to Batoche (2 hours)
HISTORY OF THE BACK TO BATOCHE CANOE TRIP
The Aboriginal Council Committee of CUPE Saskatchewan has organized an annual canoe trip since 2005. The purpose of the trip is to foster bridges between cultures and for participants to learn more about Métis history and culture and to participate afterwards in the Back to Batoche Days – an annual celebration of Métis culture and traditions. Batoche is the historic community of the Métis people and the site of the Battle of Batoche during the Northwest Rebellion of 1885. Batoche remains a spiritual home to Métis culture.
During the three-day canoe trip, participants will have opportunities to take part in Aboriginal spiritual and cultural observances. Traditional Métis food, such as bannock, is served to canoeists for the evening meal.
/nm Cope 342