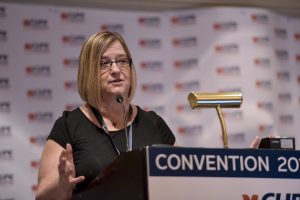 Judy Henley was re-elected as Secretary-Treasurer of CUPE Saskatchewan at Convention 2018 held on March 7 to 9, 2018 in Saskatoon.
Henley has served in the position of Secretary-Treasurer of CUPE Saskatchewan Division since 2001.
In addition to her role as Treasurer, Judy Henley also serves as a CUPE SFL Vice-President, and as a CUPE National General Vice President since June 2017.
Sister Judy Henley is a health care worker and has been a CUPE member since 1982.
Henley is a member of CUPE Local 5430.
CUPE Saskatchewan is a provincial division of the Canadian Union of Public Employees, and acts as the political voice for CUPE locals in Saskatchewan.
Article by: /nm cope 342