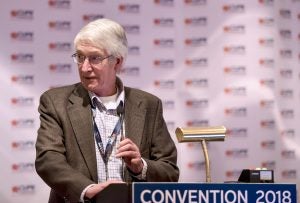 Tom Graham was re-elected as President of CUPE Saskatchewan at Convention 2018 held on March 7 to 9, 2018 in Saskatoon.
Graham has served in the position of President of CUPE Saskatchewan Division since 1998. Previous to serving as chief spokesperson and representative of CUPE Saskatchewan, Graham was President of CUPE Local 859 (Saskatoon Municipal Workers) from 1996 – 2004.
Tom Graham first became involved in CUPE in 1979 when he was hired by the City of Saskatoon Sign and Paint Shop. Graham was elected to various roles in CUPE Local 859 including: local Vice-President and local President.
Graham is the recipient of the Queen Elizabeth II Golden Jubilee Medal in 2002, and the Saskatchewan Centennial Medal in 2005. The awards recognize exemplary contributions to the community.
CUPE Saskatchewan is a provincial division of the Canadian Union of Public Employees, and acts as the political voice for CUPE locals in Saskatchewan.
Article by: /nm Cope 342