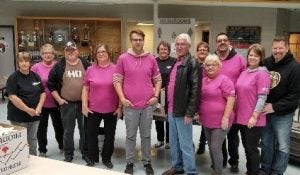 TISDALE, SK – CUPE Saskatchewan was on hand today to support the leaders of tomorrow and serve lunch for the nearly 800 participants of the Saskatchewan Student Leadership Conference (SSLC) 2017 which wrapped up today in Tisdale, SK. The two and a half-day conference was held from September 20 – 22, 2017, at the Tisdale Middle & Secondary School in the North East School Division, bringing together young leaders with 200 advisors and inspirational guest speakers.
Patricia Gausman, President of CUPE Local 4875 representing school support workers in the North East School Division, welcomed the student leaders on behalf of the Canadian Union of Public Employees, encouraging students to consider leadership opportunities in their schools, communities, and in their future workplaces.
CUPE Saskatchewan was a silver sponsor of the SSLC Conference for a second year.
/nm cope342