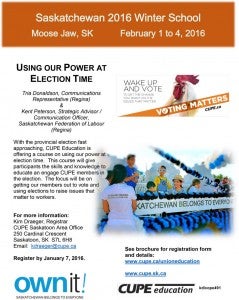 All interested CUPE Saskatchewan union activists are encouraged to register to attend the CUPE Saskatchewan Winter School February 1 – 4, 2016 at the Temple Gardens Hotel and Spa in Moose Jaw. Courses offered include: Introduction to Pensions, Steward Learning Series, Using Our Power at Election Time, and Unionism on Turtle Island.
Three scholarships are available for CUPE members to attend:
1. Glen Makahonuk Scholarship
2. Two Scholarships
– One for Equity-Seeking Groups
– One for Young Worker Group
The scholarship application deadline is Tuesday, January 5, 2016. The deadline for registration and payment is Thursday, January 7, 2016.
For more information, download the brochure and registration form (includes scholarship application forms): CUPE Saskatchewan Winter School 2016 Brochure and Registration (PDF)