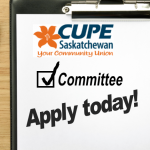 Are you interested in serving on a Standing Committee of CUPE Saskatchewan? Further your union involvement and activism – apply today!
Deadline for applications: Friday, March 27, 2015.
Applications are now being accepted to fill vacancies on the following Standing Committees of CUPE Saskatchewan: Committee Against Racism & Discrimination (2 positions); Contracting Out & Privatization Committee (1 position); Environment Committee (1 position); Global Justice Committee (2 positions); Occupational Health & Safety Committee (1 position); Women's Committee (1 position); and Young Workers' Committee (1 position).
Standing Committees are governed by The CUPE Saskatchewan Constitution. Each Standing Committee works on a specific policy/program area, resolutions from the Annual Convention, and advises the Executive Board on actions to consider on behalf of CUPE members.
Complete the application form and submit to the CUPE Saskatchewan office by:
*Appointments made in 2014 end in March, 2015. Appointments made in 2015 are for a two-year term and expire in 2017.
cope 342