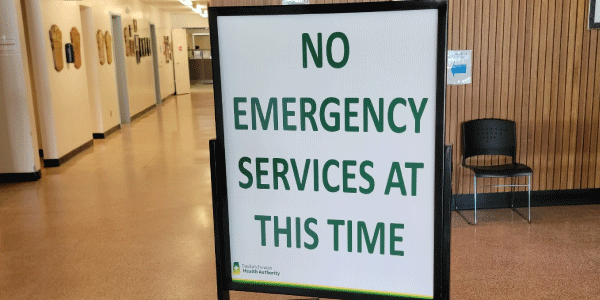 The community of Radville is losing two doctors, and the emergency room is moving to a virtual care model. This is the latest service disruption in the former Sun Country health region.
Dozens of concerned citizens attended a Town Hall meeting on October 18, 2023 to discuss these changes.
"Residents in the area are receiving subpar care. Emergency Rooms are shutting down, doctors are leaving, and the drive time to see specialists keeps getting longer and longer," said Bashir Jalloh, president of CUPE 5430.
The issues are not isolated to Radville. In Redvers, emergency and acute care services have not been available on weekends or after 8:00 p.m., on weekdays since May 2023. This service disruption is due to a physician shortage. The Galloway Health Centre in Oxbow has also lost doctors and have moved to virtual services.
"The government's decision to let a million-dollar donation for an MRI machine slip through its fingers is just another example of how out of touch they are," said Adrienne Gardiner, General Vice-President of Region 4, and a resident of Gainsborough. "It is ridiculous that there are no MRI machines south of Regina. Ninety percent of Saskatchewan residents waiting for an MRI had to wait 246 days, and residents in southeastern Saskatchewan must drive upwards of three hours to access care. We can and must do better."
CUPE 5430 represents over 13,000 health care providers, including workers at Radville Marian Health Centre.
/cope342 /cope491
Recent related news: