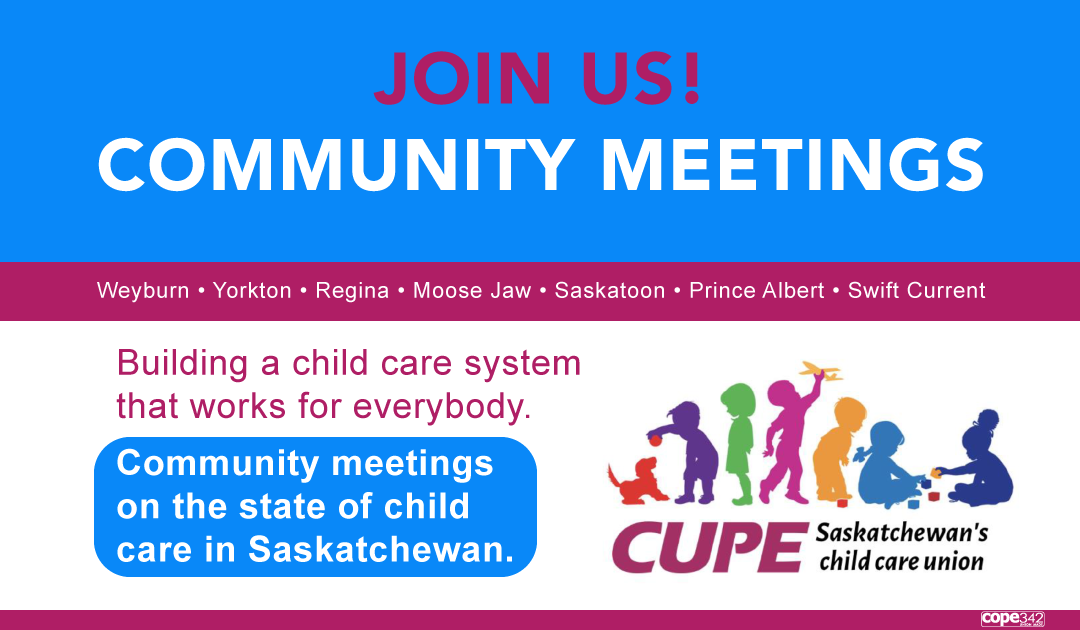 Saskatchewan's childcare system is going through significant changes, creating uncertainty for workers and parents.
Join CUPE for an in-person public meeting to review the federal childcare funding agreement, look at the province's plan for the childcare sector, and learn about what steps we can take to strengthen the childcare system.
Click here for a list of community meetings. 
Weyburn – Wednesday, January 18, 2023
6:30 p.m. Credit Union Spark Centre
(540-5th Street NE)
Yorkton – Thursday, January 19, 2023
6:30 p.m. Gallagher Centre
(455 Broadway St West)
Regina – Tuesday, January 24, 2023
6:30 p.m. Glencairn Neighbourhood Centre
(2626 Dewdney Ave East)
Moose Jaw – Thursday, February 2, 2023
6:30 p.m. Moose Jaw Public Library
(461 Langdon Cres.)
Saskatoon – Wednesday, February 8, 2023
6:30 p.m. Alice Turner Library
(110 Nelson Road)
Prince Albert – Tuesday, February 21, 2023
6:30 p.m. John M. Cuelenaere Library
(125-12th Street East)
Swift Current – Thursday, February 23, 2023
6:30 p.m. Lt. Colonel Clifton Centre
(350-6th Ave NE)
---
ATTACHMENTS:
Learn more at: www.skchildcareunion.ca
/cope342 /cope491