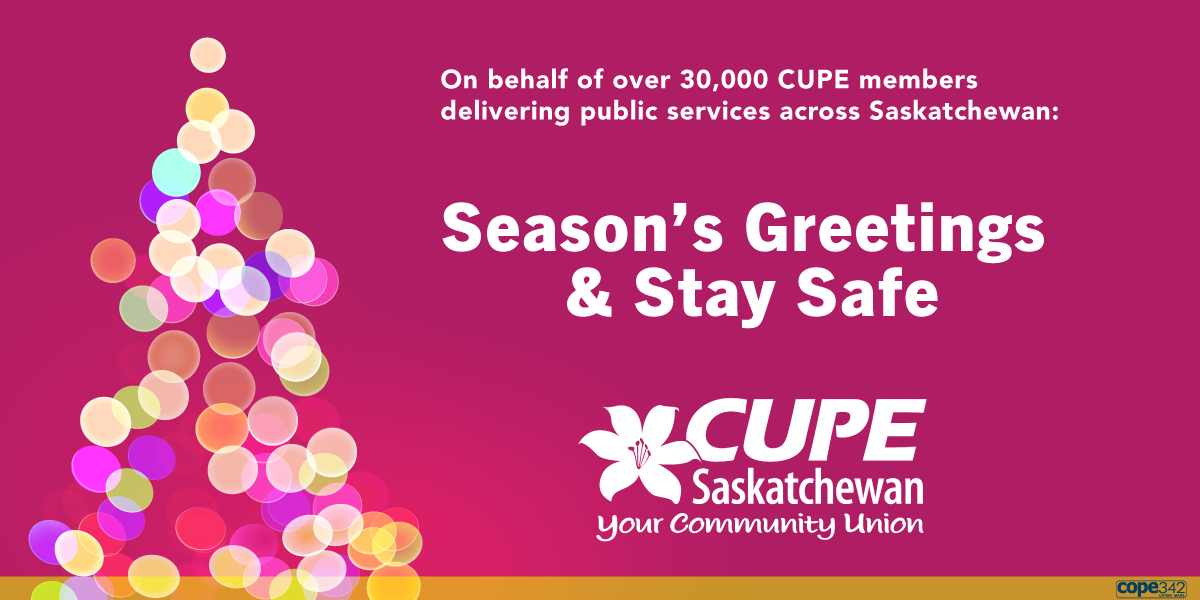 Thank you to the over 30,000 CUPE members on the frontline delivering public services across Saskatchewan that provide care, enrich people's lives, and strengthen our communities.
The ongoing pandemic has made clear that public services and the workers who provide them are vitally important for safe, healthy, and strong communities. CUPE members are on the frontline delivering public services for Saskatchewan people in health care, K-12 school system and universities, municipalities, public libraries, providing child care and early learning, caring for our most vulnerable in community-based organizations, and in many boards and agencies across the province.
Continue reading the full year-end message…
Saskatchewan's public services are continually under threat of privatization, cuts, understaffing, and underfunding by the Sask. Party government. We saw this during the height of the pandemic with the tragedy of private long-term care facilities, and now we are seeing it again with the privatization of our public healthcare services, and the sale and closure of public SLGA stores thereby eliminating good jobs and a source of funding for public services.
In June of 2022, CUPE Saskatchewan launched its documentary about the threats facing our public services, Meeting Human Needs: The Fight to Protect Saskatchewan's Public Services. Since 2007, the Sask. Party government has sold over $1.2 billion in public assets and eliminated at least 1,227 public sector jobs via privatization and contracting out. The documentary film looks at the loss of STC, the challenges with the Sask Hospital P3, and the ongoing erosion on public health care. Watch and share the documentary – and join us in defending public services.
Many lessons have been learned from the ongoing pandemic and the now growing affordability crisis.
All workers deserve much more recognition, better pay for their contributions, and a living wage!
Our public services, long starved of funds, need urgent and improved investment to serve the people of Saskatchewan and deliver the accessible, quality services everyone deserves.
Health care workers continue to warn about the need for more government action on burnout and to address the short-staffing crisis causing disruptions to service accessibility in rural Saskatchewan. We need to ensure the government invests in our public health care system, rather than turning to misguided privatization.
With a growing affordability crisis driven by excess corporate profit and made worse by government inaction as prices skyrocket and the cost-of-living soars, all workers must join together and organize to demand living wages to end in-work poverty and fair pay to maintain decent living standards, access to affordable housing and essentials, and to demand a society and economy that leaves no one behind. Saskatchewan still has the woeful distinction of having the lowest minimum wage in Canada.
We witnessed this year the strength of workers and what we can achieve with solidarity. 55,000 CUPE Ontario frontline education workers walked out of schools in a political protest to denounce the most appalling abuse of power by the conservative Doug Ford government that attempted to deny workers the fundamental right to bargain for fair wages, good jobs, and better public services for students and communities. Workers, parents, and students stood strong and united in the fightback – across the province and across Canada – and achieved the repeal of the legislation and return to collective bargaining.
As we near the end of yet another challenging year and look to another, let us recommit to organize and mobilize to push forward for more fairness, call for an end to privatization and cuts to public services, rally together for better pay and living wages, and demand a more just and fair economy that puts people and the well-being of our community before all else.
Workers, united, can make a better world possible! Solidarity!
On behalf of the Executive Board and staff of CUPE Saskatchewan, we wish everyone a safe holiday season and a happy, healthy new year. 
To the many CUPE members on the frontline caring for us and keeping our public services going through the holidays – Thank You!
Published by the Division Office /n.m. Cope342