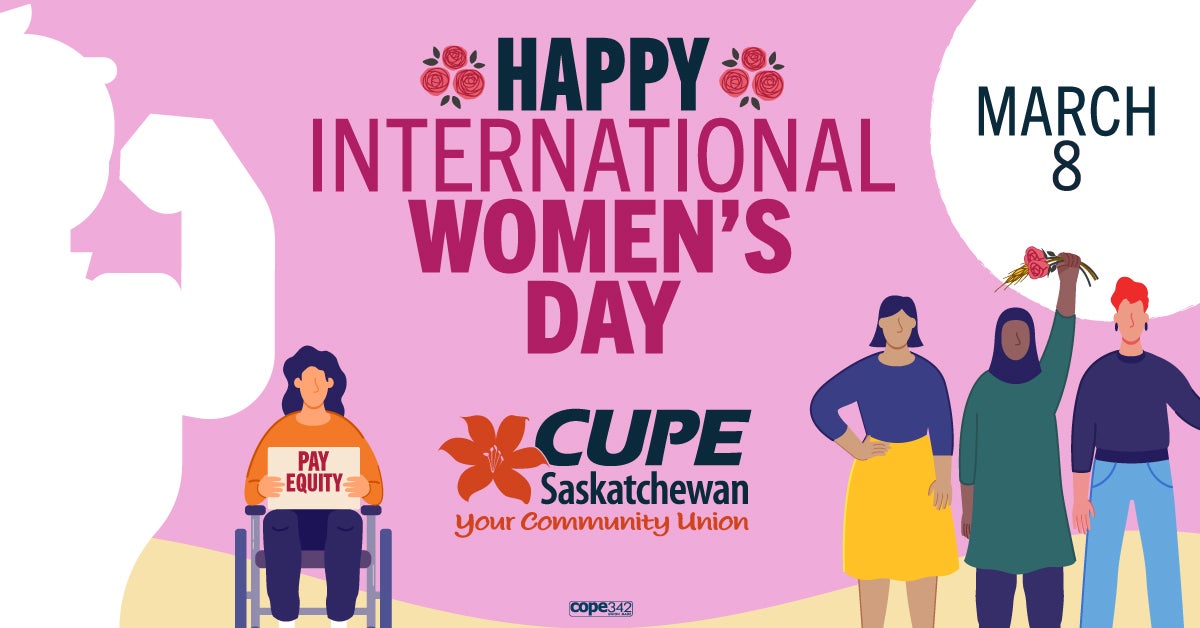 The COVID-19 pandemic has shown just how critical the care work and leadership provided on the frontlines of our public services by women have been for the safety and health of our communities. The pandemic has also created more inequality for women providing unpaid care and who face the majority of unpaid care responsibilities to support families and the broader community.
This year's International Women's Day theme is "Gender equality today for a sustainable tomorrow," highlights the need for more action to tackle systemic gender inequality to build a better, more just future. We must not let governments and employers go back to the normal that continues to perpetuate gender inequality and marginalization, and which chronically under-values women. Instead, we must organize and take action for gender equality as a union dedicated to fighting at the bargaining table and through political action to improve the jobs, rights and the well-being of women and gender diverse people.
According to a 2018 report by the International Labour Organization entitled: Care Work and Care Jobs for the Future of Decent Work, across the world women perform three-quarters of unpaid care work and in no country is there full gender equality in care responsibilities. Inequalities in unpaid care work and inequality in the labour force are deeply inter-related and requires more official recognition, value and support through stronger public services and social and employment protection policies. Women also provide the majority of paid care work which is undervalued, more insecure, and has an increased risk of exposure to harassment and violence. The Canadian Labour Congress is highlighting the critical importance of care work and calling for greater support for care workers and investments in Canada's care systems.
Take a moment for online action in support of public care services.
On behalf of CUPE Saskatchewan, happy Women's Day!
Bread and Roses!
Published by the Division Office /nm Cope 342
---
RESOURCES & LINKS:
• CUPE's Safe Union Spaces Working Group
• CUPE's Anti-Racism Policy
• CUPE's Stop Workplace Sexual Violence Guide
• CUPE's Violence Prevention Kit
• Fact sheet on pronouns and gender diversity
• Learn more about the history of the poem and anthem "Bread and Roses"