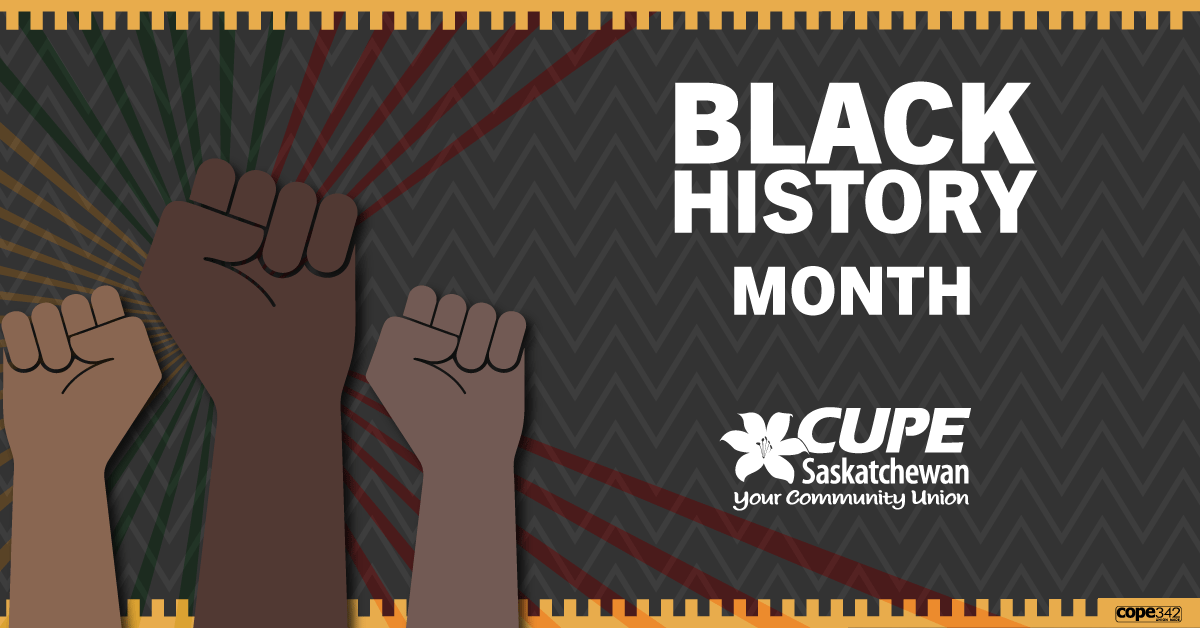 February is Black History Month. This year's 2022 theme, February and Forever: Celebrating Black History today and every day, is a call to recognize both the contributions and struggles of Black Canadians and communities. As union members, Black History Month is a time to renew our resolve to take meaningful action in our workplaces and communities to end systemic racism and address inequality. From the disproportionate and intensified inequalities experienced by racialized workers and communities during the ongoing pandemic, to ongoing activism denouncing the crisis of police brutality and over-policing, more remains to be done to end injustice, to challenge systemic racism, and to build equality.
Take Action
• Canadian Labour Congress – Online Text Rally by Zoom, Beyond Black History Month, on February 23, 2022 at Noon Saskatchewan time. RSVP here.
• Tune in to the Black History Month virtual celebration hosted by the Government of Canada, Canadian Heritage, on Facebook Live on February 17, 2022
• Visit the Canadian Labour Congress website to hear from Black Labour leaders about building an anti-racist Labour Movement and addressing challenges.
Black Lives Matter
The global call to denounce police brutality and systemic racism grew with the world witnessing the brutal, deliberate murder of George Floyd on May 25, 2020, when he was suffocated by the knee of a Minneapolis police officer outside a shop in the state of Minnesota, USA. The killing sparked world-wide protests and, in Saskatchewan, it led to local anti-racism demonstrations and conversations about racial injustice experienced in our home communities across the province. A few days earlier the death of a local football player, Samwel Uko, took place in Regina reportedly by suicide, after he twice sought help for a mental health crisis and his family said he was denied service.
In June 2020, CUPE Saskatchewan's Executive Board adopted a resolution pledging its solidarity in challenging systemic racism and denouncing police brutality. In its resolution, the union added its voice to the growing call for all levels of government to invest in Black and Indigenous-led alternatives to policing because Black Lives Matter.
CUPE's Anti-Racism Strategy
At the 2021 National Convention of CUPE, delegates adopted CUPE's Anti-Racism Strategy. The strategy identifies concrete actions to challenge systemic racism in our workplaces, the union and our communities. It acknowledges the need for our union and locals to work towards meaningful and attainable change for Black, Indigenous and racialized members, including those with intersecting identities.
Celebrating Black History in Saskatchewan
• Government House has partnered with the Saskatchewan African Canadian Heritage Museum to host a Black History Month exhibit. 
• The Western Development Museum in conjunction with the Melfort & District Museum have launched a new virtual exhibit honouring Dr. Shadd and his legacy here in Saskatchewan.
• View the virtual launch of launch of Black History Month at the MacKenzie Art Gallery in Regina with the Saskatchewan African Canadian Heritage Museum Inc.
• The CBC project Black on the Prairies interactive website explores the past, present and future of Black Prairie.
Links and Resources:
• Check out CUPE's landing page on Black History Month to view activities and learning resources.
• Take CUPE's Black History Quiz
• The Saskatchewan African Canadian Heritage Virtual Museum
• Learn more about the Honouring Tree Sculpture in Wascana Park, Regina – a public art and diversity legacy community project installed in 2011 to commemorate the 1910 settlement of people of African ancestry in Regina and Saskatchewan as a whole.
• Government of Canada's website with links to Black History Month resources
• Black Lives Matter – Canada, the Canadian chapter of #BlackLivesMatter
• Canadian Museum for Human Rights: One woman's resistance – Viola Desmond's Story
• Visit the website of the Canadian Museum for Human Rights to learn more about Black Canadian history including: the story of Africville, Black sleeping car porters, and slavery in Canadian history.
• Learn more about trade unionist and human rights activist Bromley Lloyd Armstrong 
Published by the Division Office /nm Cope 342