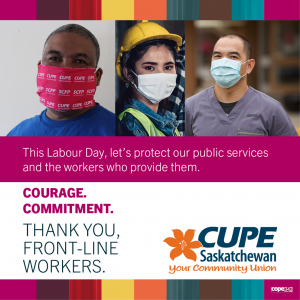 A message from Judy Henley, President of CUPE Saskatchewan, printed in the Labour Day feature of the Regina Leader-Post and Saskatoon StarPhoenix (print issue: Friday, September 4, 2020).
This week I am reflecting on what Labour Day meant historically, what it will look like during the COVID-19 pandemic and what it may look like in the future.
Labour Day, a statutory holiday in Canada since 1894, was created to honour the labour movement and the social and economic achievement of workers. Every year we celebrate the contributions workers have made to the strength, prosperity and well-being of our country.
We are in a time of uncharted waters for working people in this province. The pandemic has shut down the country, and many parts of the economy. Workers were laid off, forced to self-isolate, or told to work from home.
Many of our front-line CUPE members, who provide critical services, were sent to work and risked daily exposure to this deadly virus. Workplaces across the province struggled to provide workers with basic personal protective equipment (PPE).
Many workers were called heroes for performing jobs that are difficult and challenging under normal circumstances. In fact, COVID-19 has shone a light on the challenges that understaffing, and under funding have caused in our health care system, our education system and all the public services we rely on.
COVID-19 also made it clear how many workers we take for granted. These workers include: childcare workers, custodial staff, grocery store workers, delivery services, along with many other classifications. These workers are also some of the lowest paid in Saskatchewan.
I have heard from so many people about how the pandemic has opened their eyes to how important our public services and the workers who provide them, truly are. These workers, and all workers, deserve to be safe at work and well compensated for their time.
This Labour Day, as the province continues to reopen, let us not forget the unsung heroes that continued to go to work and the value of all workers serving the public.
Treat workers with respect and don't try to cover the losses of the pandemic by restricting their income and benefits due to deficits.
We need to push forward for a better tomorrow – not at the risk of workers' income or health and safety.
In solidarity,
Judy Henley, president, CUPE Saskatchewan
---
HISTORY OF LABOUR DAY IN CANADA
The origins of Labour Day in Canada go back to 1872 when the printer's union, the Toronto Typographical Union, took a brave stand for a shorter work week and went on strike. George Brown, a politician and owner of the Toronto Globe – now the Globe and Mail, had some of his striking employees (members of the strike committee) charged under laws criminalizing union activity. Canada's first Prime Minister, Sir John A. Macdonald, promised in response to repeal the anti-union laws and passed the Trade Union Act months later legally recognizing unions.
Demonstrations continued in support of the workers including on September 3rd of that year, and these demonstrations in support of the newspaper printer workers carried over into an annual celebration of workers' rights in Canada.
In 1894 under growing pressure, the federal government passed a law officially recognizing Labour Day as a national holiday. Labour Day was only the second official holiday observed in a calendar year when declared a holiday, representing its significance.
/cope 342