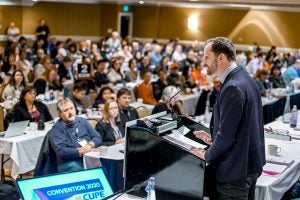 Saskatchewan NDP leader Ryan Meili brought a packed room of CUPE members to their feet in Saskatoon on Friday morning, after a speech vowing to fight the Sask Party's attacks on workers' rights and public services.
Meili said an NDP government would put people first and focus on strengthening public services, innovating for a green economy, and working alongside First Nations and Metis people to close gaps in health and education.
"Putting people first is what our democracy is about. That's what CUPE is about, and that's what New Democrats are all about too," said Meili. "We're here to send a message loud and clear to the people of this province; New Democrats are in this for you."
Meili also promised to strengthen workers rights and raise wages, noting that cost of living in Saskatchewan is going up twice as fast as wages and one in four kids in Saskatchewan is living in poverty.
The Saskatchewan NDP has been a consistent ally of working people at the legislature in recent years, as the Saskatchewan Party government waged an all-out attack on the public services, crown corps and workers that keep Saskatchewan communities strong. When Brad Wall and Scott Moe came after the wages and jobs of CUPE members, the NDP was there stand up and fight back for CUPE members in the legislature.
On Wednesday, delegates unanimously passed a resolution affirming CUPE Saskatchewan's affiliation to the Saskatchewan NDP for the upcoming election.
Even though the provincial election is scheduled for October 26, rumours are flying that Premier Scott Moe will ignore the scheduled election date and send Saskatchewan to the ballot box early. "Whatever Scott Moe's reasons for an early election might be," joked Meili, "I don't think it's ever too early to say goodbye to this Sask Party government."
/cope342