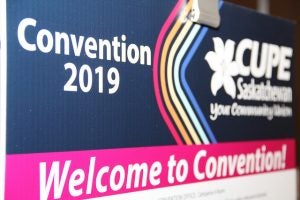 Delegates representing over 30,000 members of the Canadian Union of Public Employees in the province gathered at the annual convention of CUPE Saskatchewan on March 6 to 8, 2019, at the Delta Hotel in downtown Regina.
View the Convention 2019 Photo Albums:
Thank you to all the delegates and guests of CUPE Saskatchewan's Convention 2019 for all the solidarity, discussion, resolve to fight for fairness and build a stronger union, and fellowship with members across the province.
Check back for more highlights from Convention 2019.
Photo credits: /nm Cope 342