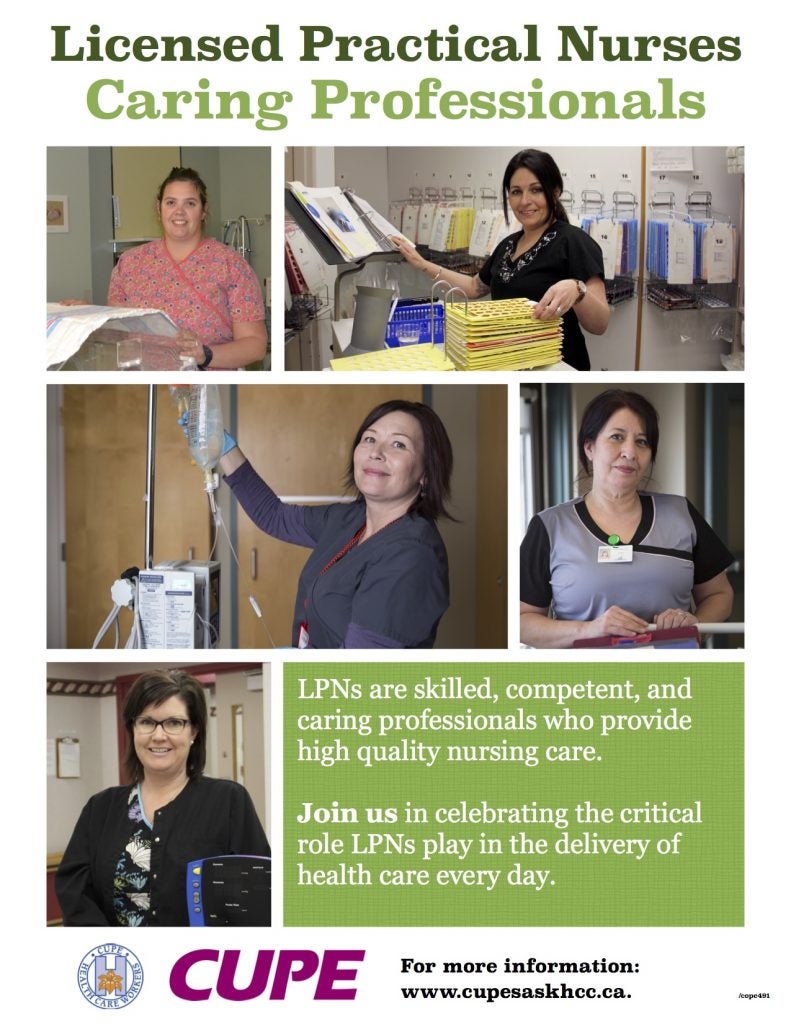 This week is National Nursing Week. It is an important time to recognize the tremendous work CUPE members do every day to deliver high quality patient care as part of the nursing team.
This year it is very important that we take a moment to reflect on the role of Licensed Practical Nurses (LPNs) because some of concerns that are being floated in the media about LPNs working outside of their scope of practice.
LPNs are skilled nurses who have been trained and accredited to providing a wide range of medical assessments and procedures. They are valuable members of the health care team, but unfortunately, their role is often misunderstood.
LPNs have to fight to do the job they were trained to do and love doing. The under-utilization of LPNs has been a long-standing problem in Saskatchewan. Although the provincial government amended the LPN Act in 2000 to enable LPNs to work to their full scope of training and not under the direction of an RN, many practical nurses still are not permitted to perform all of their professional skills.
For over a decade, CUPE has been tracking how well five health regions utilize the full range of LPN skills and has lobbied for improvements. There has been a significant increase over the last eleven years in the number of LPNs who feel their skills are fully utilized. In 2003, only 39.9% of LPNs surveyed said their employer allowed them to work to their full scope of practice. In 2014, 76.2% of LPNs said they "always" or "usually" work to their full scope of practice. 
The real issue in health care is not about LPNs working outside their scope of practice – is that many LPNs are unable to fully utilize their skill set and training to help patients.
CUPE strongly supports multidisciplinary teamwork and full utilization of all team members' skills and training. Our health care system needs to maximize the skills of all members of the nursing team – including LPNs and Continuing Care Assistants. When we work together we can ensure that all patients have access to the care they need
The Saskatchewan government has proclaimed May 12 as Continuing Care Assistants Day and May 13 as Licensed Practical Nurses Day. We would like to take this time to thank our members who are a vital part of the nursing team for all the work they do, today and every day.
CUPE will continue to advocate for our members and fight for a public health care system that allows for every team member to engage fully in providing high quality care.
Read National Nursing Week letter from the National Office.