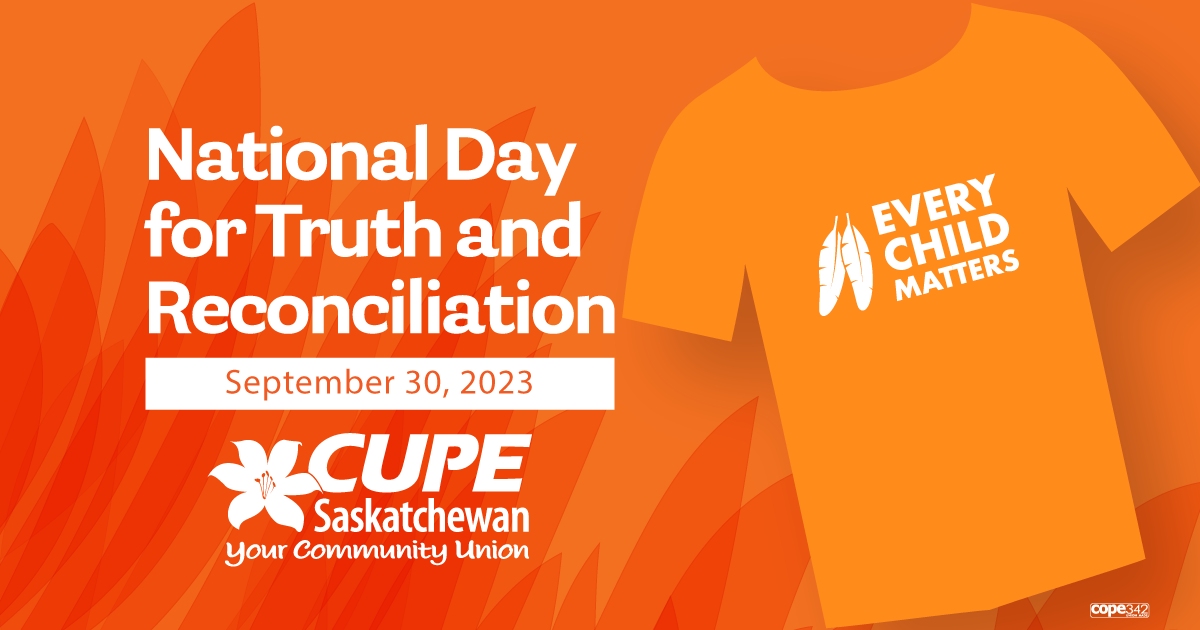 The third annual National Day for Truth and Reconciliation is a day for reflection, healing, and hope. We honour Survivors and families who courageously share their stories. We remember and grieve the children who never came home.
In 2021, the federal government passed legislation to observe September 30, a National Day for Truth and Reconciliation in Canada, on an annual basis as a statutory holiday in response to Call to Action number 80 of The Truth and Reconciliation Commission of Canada. Call to Action 80 states: "We call upon the federal government, in collaboration with Aboriginal peoples, to establish, as a statutory holiday, a National Day for Truth and Reconciliation to honour Survivors, their families, and communities, and ensure that public commemoration of the history and legacy of residential schools remains a vital component of the reconciliation process." The date also coincides with Orange Shirt Day – a day which was first observed during the St. Joseph Mission Residential School Commemoration Project in Williams Lake, British Columbia, and an annual day that has grown into a grassroots movement inspired by the story of residential school survivor Phyllis Jack Webstad.
As a young girl, Phyllis was given a new orange shirt by her grandmother before being taken to a B.C. residential school. The shirt was confiscated and destroyed by her teacher on the first day of class. The destruction of Phyllis' shirt has come to symbolize the colonial goal of residential schools to assimilate Indigenous peoples. The ongoing recovery of unmarked graves sites near the locations of former residential schools has been a grim reminder of their tragic legacy. CUPE continues to stand with Indigenous communities as they grieve these unjust losses within their communities.
Cadmus Delorme, former Chief of Cowessess First Nation, delivered an important message to delegates at the CUPE Saskatchewan convention this year on the need for everyone to act on Truth and Reconciliation and the 94 calls to action.
Currently, only the federal government, New Brunswick, British Columbia, PEI, Yukon, Northwest Territories and Nunavut recognize Truth and Reconciliation Day as a statutory holiday. The remaining provinces leave the decision up to individual employers whether to grant a paid day of recognition, remembrance, and somber reflection. This means many workers, including Indigenous workers, do not have access to the statutory day in Saskatchewan. It's important all workers across Canada be able to join their community ceremonies on this important annual day and to be with Survivors, their family, and Indigenous communities irrevocably harmed by the residential schools.
On September 30, and every day, let's join together to commemorate, to honour, to build awareness, to demand justice, to take action to end systemic racism and ongoing harms of colonialism, and to walk the long journey of reconciliation through committed and genuine action.
Wear Orange and join a community event.
---
Events on Friday, September 29:
---
Events on Saturday, September 30:
---
CUPE LINKS:
---
EDUCATION & RESOURCES:
---
/n.m. cope342