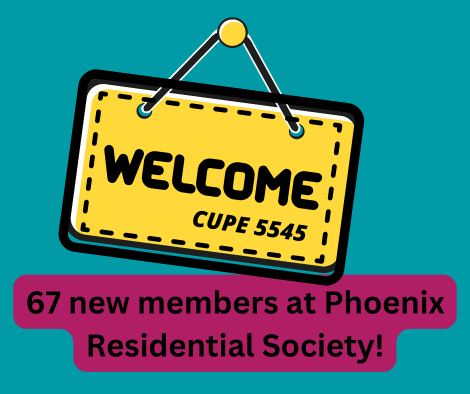 Sixty-seven workers at Phoenix Residential Society in Regina are the latest members to join the Canadian Union of Public Employees.
Phoenix Residential Society staff work at providing psychosocial (psychiatric) rehabilitation services to persons in Regina with psychiatric disorders, concurrent disorders (psychiatric & substance abuse) and persons who are chronically homeless, persons with acquired brain injury (ABI) and other cognitive disabilities. The staff who work at Phoenix HOMES program provide immediate access to housing for individuals who are chronically homeless along with intensive support services once in housing.
The newest members of CUPE voted to join the union in a mail-in ballot that was counted on August 21, 2023. The Labour Relations Board issued the certification order on September 5, 2023.
"We are very pleased to welcome the staff at Phoenix Residential Society into the CUPE family," said Judy Henley, president of CUPE Saskatchewan. "Joining CUPE is a big step towards achieving fairness in the workplace. We will work hard to negotiate a fair deal for our newest members."
"CUPE looks forward to sitting down with Phoenix Residential Society management to negotiate a first collective agreement that fairly compensates our members for the work they perform and addresses other key workplace concerns," added Henley.
CUPE Saskatchewan is the largest union in the province and represents over 30,000 workers in health care, education, universities, community-based organizations, childcare, municipalities, libraries, social services, board and agencies and many more.
/cope491 /cope342
---
RELATED RECENT NEWS: