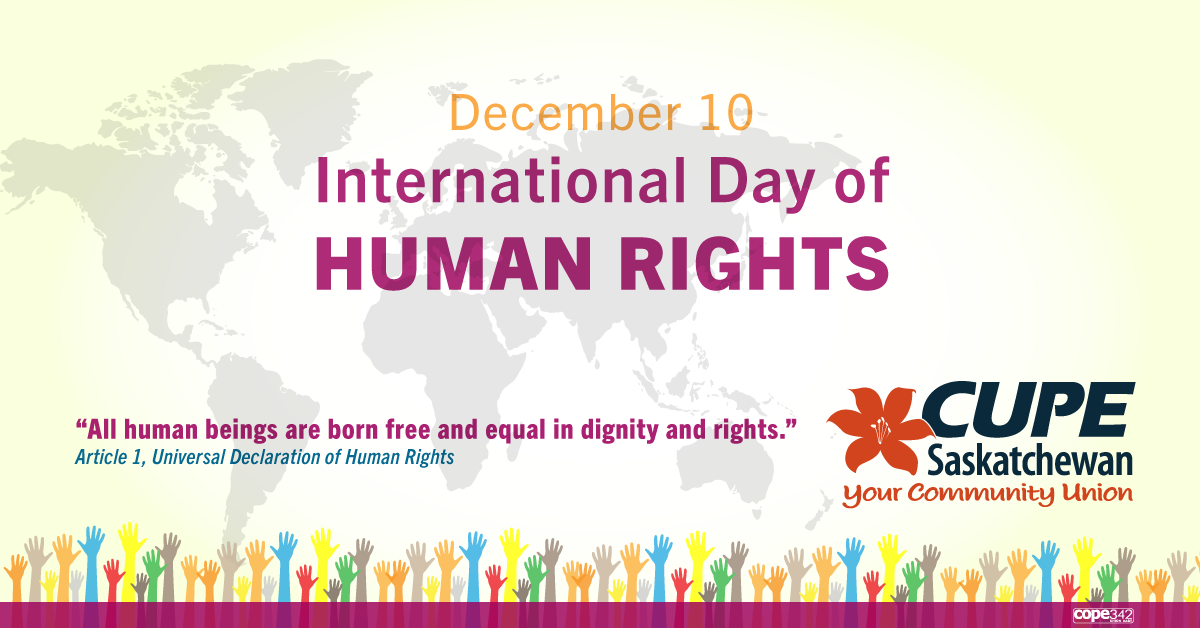 Seventy-three years ago today, on December 10, 1948, the United Nations adopted the Universal Declaration of Human Rights to recognize the inherent dignity and equal and inalienable rights of all members of the human family around the world. The declaration serves as a foundation for freedom, justice and peace, yet the pandemic has highlighted the devastating impacts of the failure to protect human rights and deep-rooted inequalities.
This year's United Nations theme for the recognition of this day is: "Equality – Reducing inequalities, advancing human rights", relating to Article 1 of the declaration which states: "All human beings are born free and equal in dignity and rights". The theme highlights the principles of equality, inclusion and non-discrimination that must be at the heart of pandemic recovery and the UN approach to sustainable development.
Today, CUPE Saskatchewan reaffirms its commitment to stand in international solidarity with fellow workers and their unions for global justice that protects and advances human rights – including the fundamental right to join a union without fear and to collectively bargain, to bring an end to systemic and deep-rooted inequalities, and to organize and demand a better, more just recovery from the pandemic.
---
Take Action for Human Rights today!
Take Action and send a letter to free CUPE member Cihan Erdal – a CUPE 4600 member who has been unjustly detained on unfounded charges in Turkey since September 2020, when he was swept up in a mass arrest of politicians, activists, and academics in Istanbul.
Spread the word on social media using: #FreeCihanErdal
---
Human Rights are Labour Rights
Did you know Articles 23 and 24 of the Universal Declaration of Human Rights provides protection of Labour Rights?
Article 23 states:
1. Everyone has the right to work, to free choice of employment, to just and favourable conditions of work and to protection against unemployment.
2. Everyone, without any discrimination, has the right to equal pay for equal work.
3. Everyone who works has the right to just and favourable remuneration ensuring for (themselves) and (their) family an existence worthy of human dignity, and supplemented, if necessary, by other means of social protection.
4. Everyone has the right to form and to join trade unions for the protection of (their) interests.
Article 24 states:
Everyone has the right to rest and leisure, including reasonable limitation of working hours and periodic holidays with pay.
---
---
Published by the Division Office /nm Cope 342