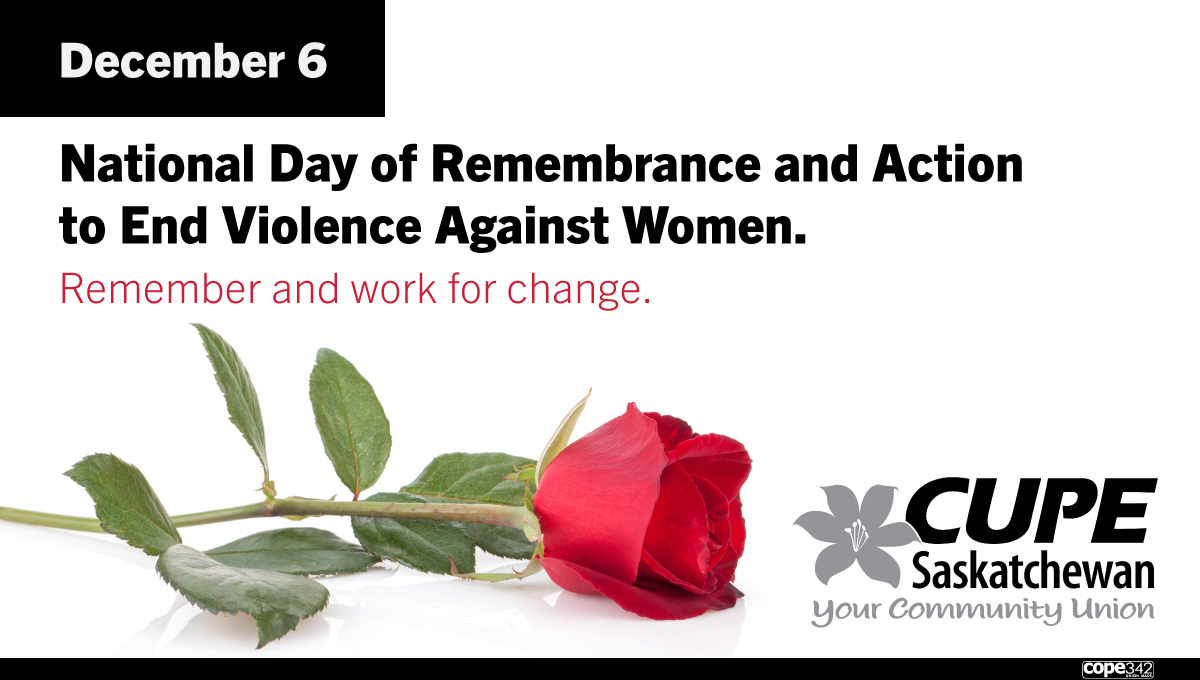 December 6 is the 32nd anniversary of the 1989 École Polytechnique massacre. We pause to remember all those who have lost their lives because of gender-based violence. CUPE Saskatchewan joins in renewing our resolve to stop sexual and gender-based violence in the workplace and in our communities.
Join the outdoor candlelight vigil at 5:00 p.m. in front of City Hall in Regina on December 6, 2021 (bring a mask and dress warmly). Facebook event link: https://fb.me/e/12y5t3CLo
---
Job-Protected Leaves
The global crisis of the coronavirus disease (COVID-19) has produced conditions that worsen interpersonal, gender-based violence with workers isolated, laid off and under financial stress, or potentially working from home becoming trapped with their abuser. According to a Canada-wide survey of women's shelters, abuse has become more severe during COVID-19 pandemic.
CUPE and the Labour Movement have been leading the way in advocating for job protected, paid leave from work for those experiencing violence through collective agreements and employment laws. The Saskatchewan Employment Act now provides the right to interpersonal violence and sexual violence leave of up to ten days, five of which are paid. CUPE Saskatchewan, together with the Saskatchewan Federation of Labour, continues to advocate for improvements to this leave – and to have all ten days paid.
---
211 Call Line and Online Portal
In Saskatchewan, residents can call or text 2-1-1 to be connected to the provincial call line, or visit the web portal at: www.abuse.sk.211.ca to quickly access help, community services and other important information to find safety when experiencing interpersonal violence, including sexual and domestic violence. The provincial phone line and web portal 2-1-1 is operated by the United Way.
Women's Shelters Canada (formerly the Canadian Network of Women's Shelters & Transition Houses) operates a national website with a clickable map to assist women and their children who are fleeing violence, at: www.sheltersafe.ca
---
Calls to Justice for the Missing and Murdered
CUPE Saskatchewan joins in calling on governments to implement the Calls for Justice from the National Inquiry into Missing and Murdered Indigenous Women and Girls report.
---
Resources
---
Published by the Division Office /nm cope 342