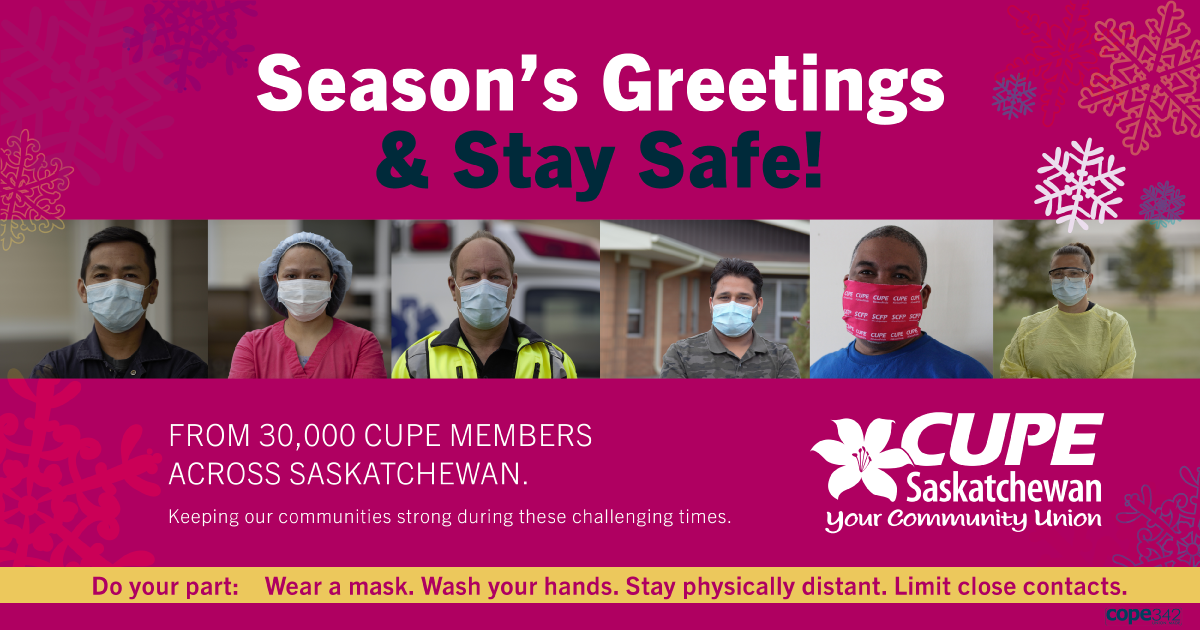 On the front line and behind the scenes, Saskatchewan's 30,000 CUPE members are delivering the public services we rely on to keep our communities safe and strong through the unprecedented fight against the coronavirus.
Click to read the full message from CUPE Saskatchewan. 
Recognition of our front-line heroes
Members of the Canadian Union of Public Employees are taking care of our loved ones and our fellow neighbours in the fight against the coronavirus.
CUPE members are on the front lines of health care, taking extraordinary care of our isolated elderly loved ones in long-term care homes and through home care, and many more are behind the scenes protecting us by cleaning our hospitals and long-term care facilities, our schools and universities, and many other public facilities.
Educational assistants and support workers are there for our students in K-12 schools and in university classes, supporting students of all ages with the rapid transition to online learning to stay safe. School bus drivers are delivering learning resources for rural and remote students.
Child care workers are taking care of our next generation of front-line heroes. Community-based organization workers are caring for the most vulnerable and those living with disabilities.
Dedicated municipal workers are keeping our cities and hometowns strong, ensuring the safety of our water, our roads, and our community's municipal services and administration.
CUPE members are also continuing to deliver support through these challenging times in crisis and addictions services, legal aid, human rights commission, and through various boards and agencies.
Our many public services and the workers providing them have been there for us when we need them most in Saskatchewan.
Staying safe and doing our part
We all need to do our part in protecting one another from the spread of the coronavirus – and to protect the public service workers who are sacrificing so much to be there for us. This includes limiting our close contacts even further to reduce transmission, remaining physically distant, wearing a mask, and washing our hands.
As we approach our holidays, we know that celebrations will have to be distant to stay safe and to halt further infections and suffering.
A new year, a brighter future
The unprecedented fight against the coronavirus has shown that all workers deserve much more recognition for their contributions, their commitment, and their courage. It has also unfortunately taken an unprecedented crisis of a pandemic for the government and employers to show more recognition to their workers, to urgently invest in public services long starved of funds, and to finally recognize just how unsustainable a society is with low wages and precarious work.
As we near the end of challenging year and look to another in the grips of a fight to protect the health of our communities and prevent more loss of life, let us recommit to do our part to limit transmission and to pushing forward for more fairness in our society, to call for more investments in public services, and to demand better recognition of our fellow workers.
In solidarity, we can make hope and better days a reality.
On behalf of the Executive Board and staff of CUPE Saskatchewan, we wish everyone a safe holiday and happy new year.
To our many front-line heroes: Thank you!
N.M. Cope 342
Published by the Division Office