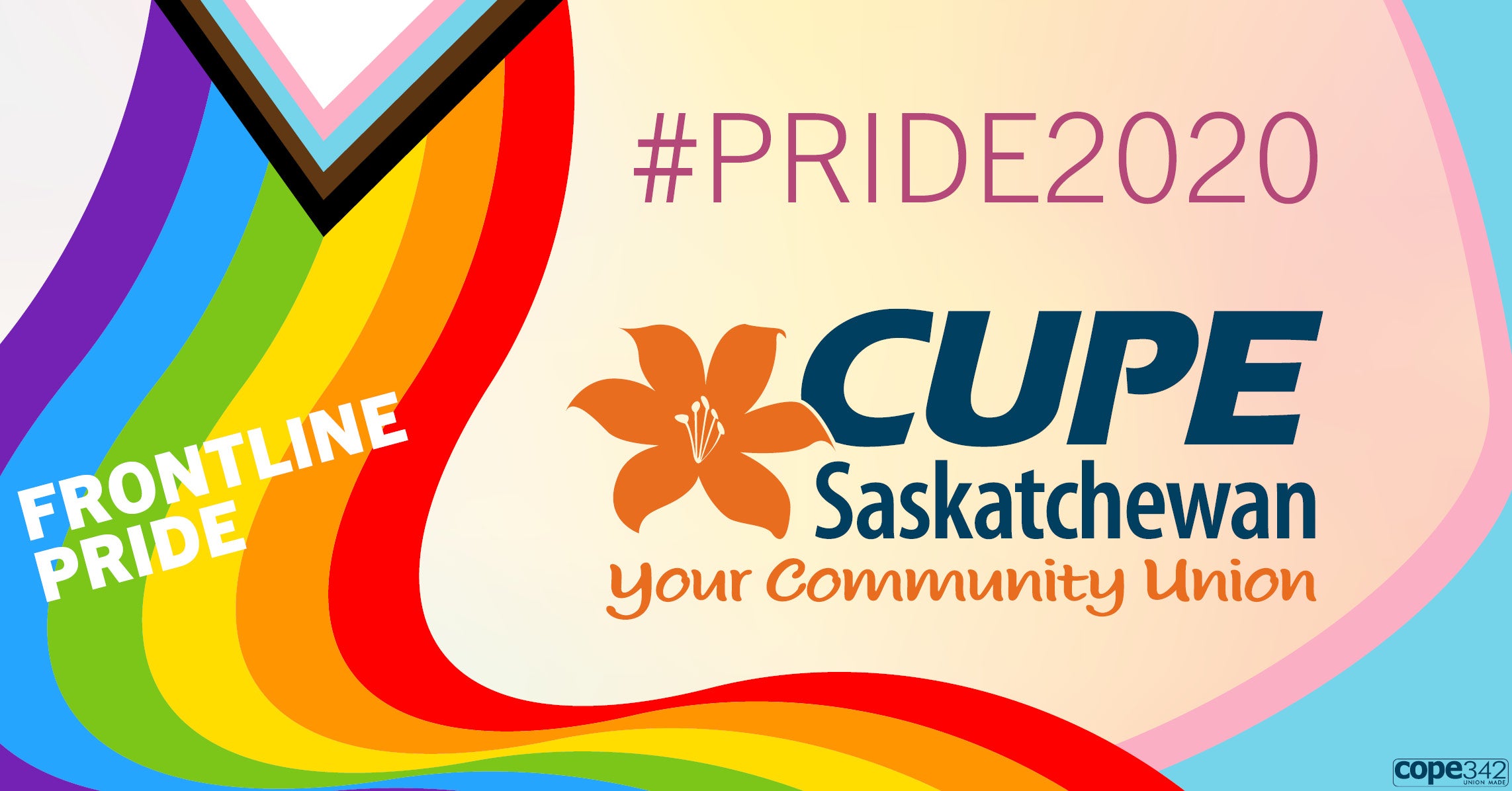 June is Pride month in many communities across Saskatchewan. While the marches and events that usually bring our communities together for Pride have either been cancelled or postponed with the impact of the COVID-19 crisis and restrictions on gatherings, we continue to celebrate Pride and stand in solidarity for equality.
As Saskatchewan's community union, CUPE proudly celebrates diversity and the role unions play in making our country a fair and more inclusive place for everyone. In the workplace and in our communities, unions have been and continue to be at the forefront in protecting LGBTQ2S+ workers from discrimination and harassment, advancing human rights, promoting inclusion, and securing dignity and equality for all workers through collective bargaining and political action.
Click continue reading for a list of upcoming virtual (online) Pride events in Saskatchewan!
This year, we reflect on the COVID-19 crisis that has heightened the need to address inequality as we know the disproportionate impact this crisis is having on LGBTQ2S+ people in our community who may face challenges with safe home settings, precarious employment and barriers in accessing medical care and mental health supports. We acknowledge the courage and commitment of workers on the front lines of public services providing care for our communities, including our fellow LGBTQ2S+ members, who are keeping us all safe. We also recognize the interconnectedness and intersectionality of the struggles against all forms of oppression and the diverse movements that are standing up for human rights.
CUPE Saskatchewan joins in celebrating Pride and standing in solidarity with our communities to advance equality.
Article by: /n.m. cope 342 (CUPE SK)
---
Upcoming online Pride events and resources:
Online Panel Discussions:
Global Queer, Trans & Intersex Rights in a COVID-19 World
CUPE National is proud to sponsor a series of online talks with LGBTIQ leaders from around the globe for a series of conversations on the impact of the COVID-19 pandemic on human rights movements in their countries and regions. The series is presented by Dignity Network Canada and Fierté Canada Pride.
CLICK HERE to view the poster. 
Thursday, June 18, 2020
1 PM CT (Live)
6:30 PM CT (Re-Broadcast)
Co-presented by Saskatoon Pride
CLICK HERE to view this event.
Monday, June 22, 2020
7 PM ET
Co-presented by Pride Toronto
CLICK HERE to view this event.
---
Upcoming virtual Pride celebrations:
SASKATOON
Join Saskatoon's Virtual Pride Parade.
Watch for CUPE Saskatchewan's video entry!
Saturday, June 20, 2020
Facebook Live
Beginning at 12 NOON
(Also shown as a delayed broadcast on Shaw Spotlight)
CLICK HERE to view this event.
GLOBAL PRIDE
The COVID-19 pandemic has had a devastating impact on communities and the ability to join together for Pride marches and events, with most annual events cancelled or postponed. Pride organizations around the world have come together to organize the world's first-ever 'Global Pride' event.
InterPride and the European Pride Organizers Association are working with national Pride networks in several countries to bring communities and Pride organizations together for this event – led by a team of volunteers from every region of the world.
Global Pride will use online platforms to deliver a Pride in which everyone can participate, wherever they are in the world. It will include musical performances, speeches, and key messages from human rights activists. The event will be live-streamed for people to join in the event from home.
Canada's Prime Minister, Justin Trudeau, will be a guest speaker.
Saturday, June 27, 2020
24-hour celebration.
Available by Facebook.
CLICK HERE to view this event. 
---
PRIDES IN SASKATCHEWAN:
Saskatoon
Website for Pride events in Saskatoon: www.saskatoonpride.ca
Saskatoon is hosting a virtual parade online on Saturday, June 20, 2020.
Regina
Regina's annual Pride Festival has been postponed to September 2020.
Website for Pride events in Regina: www.queencitypride.ca
Saskatchewan Pride Network
The Network works with volunteers and community leaders in the following communities for Pride events: Estevan, Humboldt, Moose Jaw, Prince Albert, Swift Current, Weyburn and Yorkton. Website for the Saskatchewan Pride Network: www.moosejawpride.ca/skpride
While most in-person community events and gatherings have been cancelled, many events and flag raisings are being streamed on the Moose Jaw Pride Facebook page.
---
RESOURCES FOR CUPE LOCAL UNIONS:
Information resources for supporting equality and diversity: