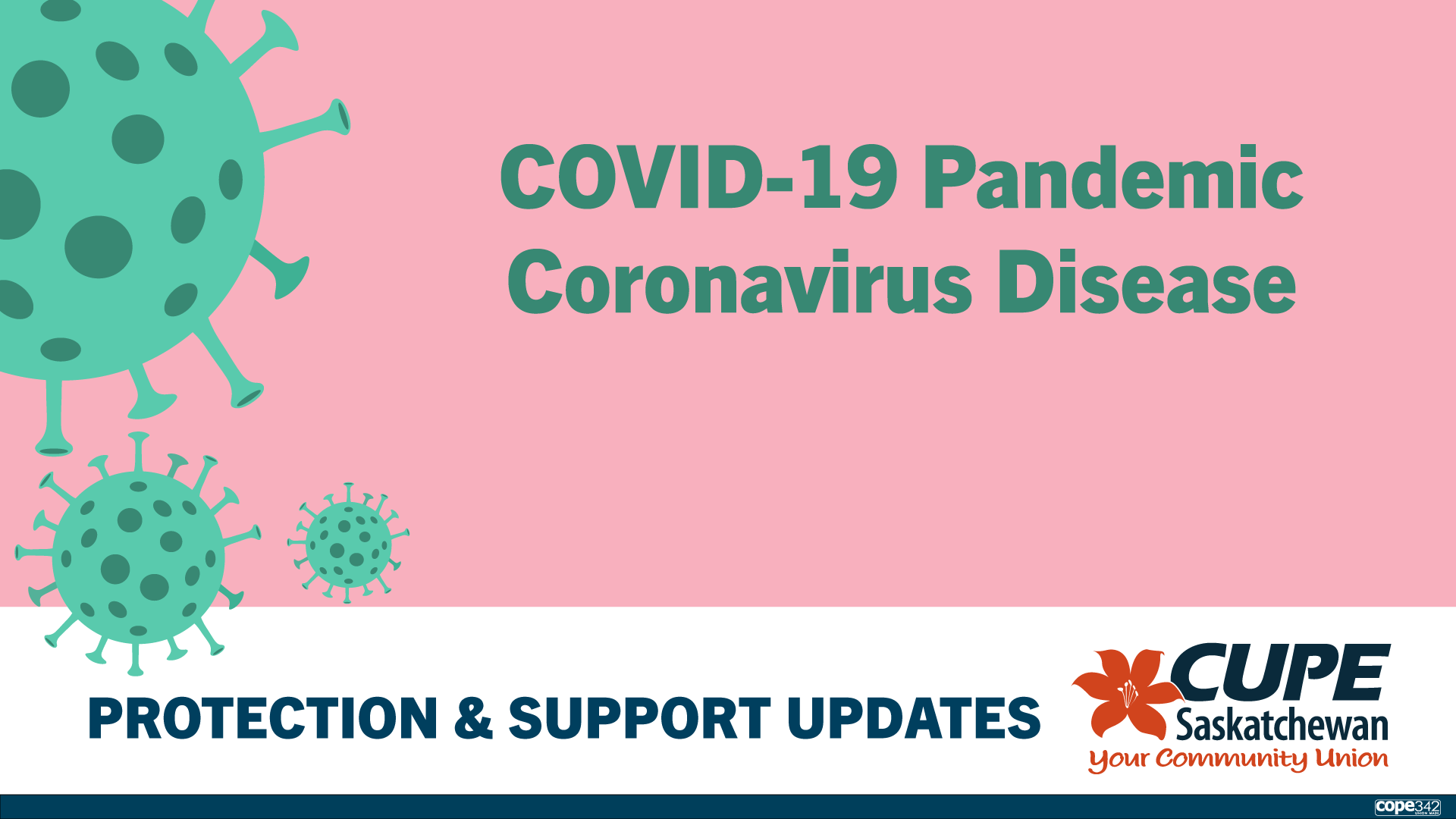 Statement by Judy Henley, president of CUPE Saskatchewan, for CUPE Local Unions.
On March 18, 2020, the province of Saskatchewan declared a state of emergency due to the COVID-19 pandemic. The large-scale impact of the coronavirus on our communities, our jobs, our families, and on our day-to-day life is unprecedented.
We all share the responsibility to do our part, in an effort to flatten the curve and to ensure that our health care system can provide life-saving treatments for everyone who needs it. Provincially, this means implementing drastic measures to reduce the spread of the virus. Closures to schools, universities, libraries, municipal facilities and other public sector infrastructure have been announced. Child care centres may be next to shut down in the near future.
Many CUPE members are facing economic uncertainty due to closures and strict public health measures. Many CUPE members are also working hard on the front line to support the delivery of vital public services such as health care and long-term care, group home caregiving for people living with disabilities, support services for vulnerable people and those with addictions, municipal services, and the often unacknowledged work of facility maintenance and environmental cleaning services in public buildings, workplaces and health facilities.
The work CUPE members do to deliver public services for our communities and neighbours is more important than ever to keep us safe. We commend all CUPE members for the important work they do to support our communities.
We recognize the tremendous challenges our members face, and the challenges and feeling of uncertainty experienced during this time by the people who rely on the public services we work to provide for Saskatchewan.
We have heard from many members who are concerned about finding child care. We have heard from members who are worried about the impact closures and slowdowns will have on their income – and we know that casual members will be hit the hardest. We have also heard concerns from members delivering vital services that they too are worried about their health and family as they work to care for all of us in our community.
In the difficult times ahead, we want to reassure you that CUPE will continue to stand with you. CUPE Saskatchewan will continue to advocate for economic relief and support for all workers who are impacted by this virus, and we will keep you informed of important developments.
At this time, both the provincial and federal governments have introduced new measures to help with the economic pressure.
Two backgrounders are available to assist CUPE Local Unions:
If you need help navigating these new measures, or you have questions about your workplace rights, please contact your CUPE Local Union representatives.
For updated resources from CUPE Saskatchewan, visit: www.sk.cupe.ca/covid-19
In addition, CUPE National's Health and Safety professionals are regularly updating the national website. You can find the most up-to-date information here: www.cupe.ca/covid-19
For general occupational guidelines for your health and safety rights when dealing with COVID-19, visit: www.cupe.ca/general-occupational-guidelines-covid-19
Together, we can keep our communities safe.
CUPE stands with you.
In solidarity,
Judy Henley
President, CUPE Saskatchewan
/nm cope 342 /cope491
RESOURCES: