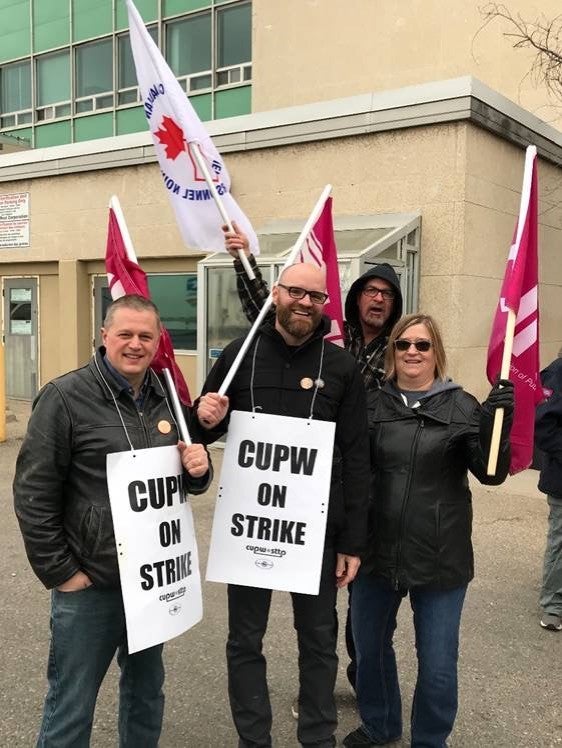 CUPE members and staff delivered solidarity to the strike lines of postal workers in Regina today by donating one thousand dollars and joining the picket line to show support. Members of the Canadian Union of Postal Workers have been on rotating strikes since October 22, 2018. Rotating strike locations in Saskatchewan were announced in Moose Jaw, Saskatoon and Weyburn locals earlier this week, and today in Regina.
"CUPE members across Saskatchewan are with you in the fight for fairness," said Judy Henley, Secretary-Treasurer of CUPE Saskatchewan. "We urge Canada Post to return to the bargaining table and meaningfully address the needs of postal workers for improved job security, working conditions, service expansion and equality," said Henley.
CUPW has been negotiating collective agreements with Canada Post for almost a year for the Urban Postal Operations and Rural and Suburban Mail Carriers (RSMC) bargaining units.
"Canada Post insists their offers are 'significant' but the reality is they don't address a single one of our major issues," said Mike Palecek, CUPW National President in a statement. "We need solutions to overwork and overburdening caused by the massive increase in parcel volumes, more full-time jobs and equality for all our members. These offers are far from significant to us. We will stay on the picket line as well as the bargaining table until we reach fair agreements for all our members."
CUPE members are urged to not cross picket lines and to join picket lines at rotating strike locations to show support. Please respect and understand mail delivery delays as postal workers engage in rotating strikes.
What does a rotating strike mean? A rotating strike means different Canada Post locations will walk out, and the strikes that will last for 24 hours. CUPW said it opted for rotating strikes to minimize the impact of a postal disruption on customers, while engaging in strike action to bring attention to key demands being ignored by the Canada Post Corporation at the bargaining table. Rotating strike locations are announced daily on the CUPW website at: www.cupw.ca/en or on facebook at: www.facebook.com/cupwsttp/
CUPE Saskatchewan represents 30,000 members working in a variety of public service occupations including: health care, K-12 school system, universities, libraries, municipalities, community-based organizations, and various boards and agencies. CUPE is the largest union in Saskatchewan.
/nmCope342