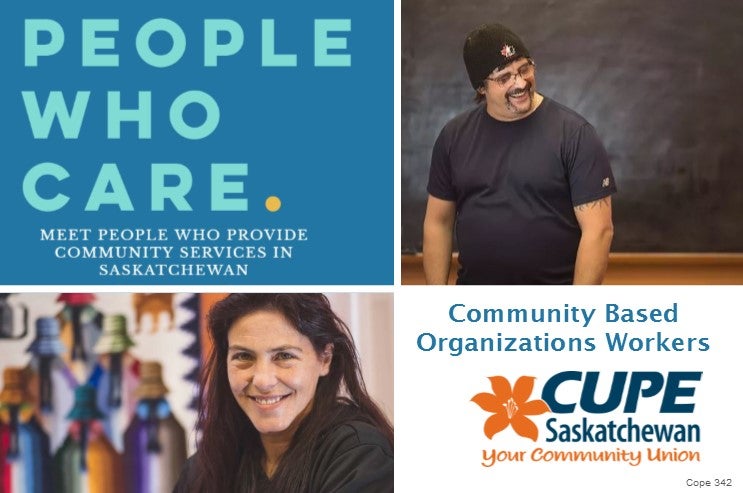 CUPE along with SGEU and SEIU-West are launching a new website, profiling Community Service workers and the important care they provide to Saskatchewan people.
Modeled after the popular Humans of New York website, the People Who Care site features photographs of, and first-person narratives by, workers who provide vital services to some of the most vulnerable people in the province.
"These workers for the most part don't do this work for the pay," says CUPE Saskatchewan President Tom Graham. "CBO workers do this work because they feel passionate about caring for their clients. They deserve recognition, and this website will do an amazing job of bringing attention to the workers who will be spending their holidays with their secondary families, their clients."
Through first-person storytelling and photography, the site highlights the important care that workers in Community-Based Organizations (CBOs) provide. With the holidays just around the corner, it's an especially appropriate time to highlight the care that CBO workers provide to people who may not have anyone else to turn to this time of year. The People Who Care site also provides the public with an opportunity to learn more about CBO workers – including why they do this challenging yet rewarding work, and how they make a difference in people's lives. Many of the workers featured on the site express their love for helping people.
CUPE, SGEU, and SEIU-West represent CBO workers in nearly 80 agencies across the province, and have been working together for more than a decade to support and promote workers in this sector.
VIEW:
/cope342
---
Who are CBO workers?
Community-Based Organizations (CBO) workers are employed in many different kinds of agencies. CBO organizations are usually run by a volunteer board of directors.
CBO workers care for the most vulnerable members of society, working in:
group homes and training programs for people living with physical and intellectual disabilities;
women's shelters;
child care centres;
treatment centres;
programs for Aboriginal peoples;
youth programs; and
crisis counseling and intervention programs
/cope342