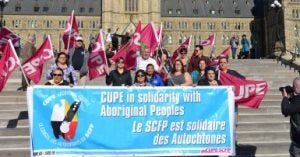 National Aboriginal Day is time to celebrate the vibrant and unique cultures of Indigenous peoples, as First Nations, Métis and Inuit communities graciously share their ceremonies, customs and heritage with us all.
CUPE Local 5999, along with CUPE Saskatchewan and in partnership with the City of Estevan, Affinity Credit Union, and Pheasant Rump Nakota First Nation is hosting Estevan's first Aboriginal Day celebration from 11 a.m. to 2 p.m. at Centennial Park. Featuring a free barbeque lunch, Aboriginal dances, Métis jiggers, and many community tables, the event is open to everyone in the community.
Upcoming events: From July 18 – 20, 2017, CUPE Saskatchewan will be holding its annual Back to Batoche Canoe Trip coinciding with Back to Batoche celebrations. The annual canoe trip offers an opportunity to learn about Métis culture, history and traditions while building fellowship. CUPE Locals and members are also encouraged to register for the annual CUPE Saskatchewan Annual Aboriginal Council Conference to be held October 23 – 24, 2017. The annual conference seeks to build union activism with a focus on equality and rights for Aboriginal people in our workplaces and communities.
In addition to a celebration of vibrant indigenous cultures, National Aboriginal Day is also a time for us to recommit ourselves to promoting truth and reconciliation.
Canadians must fully and openly recognize the historical and ongoing harm Canada has inflicted through its failed policies and laws to assimilate Indigenous peoples. We must respect the rights of Indigenous peoples to their traditional and unceded territories, and we must acknowledge their histories on these lands – histories that date back far beyond 150 years.
CUPE is committed to working with Indigenous nations, communities and organizations towards reconciliation. We call upon governments in Canada to ensure the implementation of the Truth and Reconciliation Commission's calls to action. Our union is striving to educate our members on the legacy of the residential school system and the attempted genocide of Indigenous peoples in Canada.