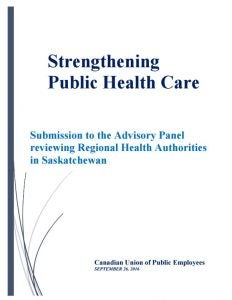 The government of Saskatchewan announced a three person advisory panel to develop recommendations for the reorganization of health care with a mandate to "recommend a structure with fewer regional health authorities to achieve administrative efficiencies as well as improvements to frontline service delivery." The final report is due on October 31, 2016.
The CUPE Health Care Council has submitted a formal submission to the panel including a list of recommendations. You can read the full submission here: CUPE submission to the Advisory Panel reviewing Regional Health Authorities in Saskatchewan.
CUPE is the largest health care union in Saskatchewan, representing over 13,000 members. We represent a wide range of health care employees in five major classification areas: clerical, technical, nursing, support, and plant operations.
/cope491 /cope342
---
Related news: