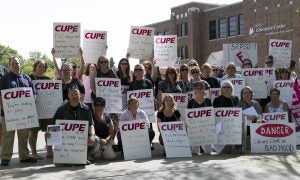 Members and supporters of CUPE Local 4195 attended the latest Sask. Rivers Board of Education meeting to raise awareness of the impacts of their decision to lay off support staff and hire them back at reduced hours.
"This decision means that our students will lose over 8,000 hours of direct support from educational assistants. This decision means that the libraries in our schools will have two weeks less of staffing. The total impact on staffing levels will be over 11,000 lost hours for many support classifications, including social workers, office administration, language assistants, cooks, and educational assistants. This reduction will be felt in the classroom, and that is unacceptable," said John Kunard, president of CUPE Local 4195.
You can read more about the issue here.
/cope491